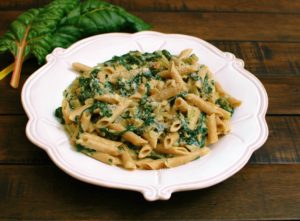 I'm a huge fan of Swiss chard, for a few reasons. First, our backyard doesn't get a ton of sunlight for traditional garden vegetables like tomatoes and peppers (sad, I know) but Swiss chard always grows so well! Second, I love Swiss chard because of the colors! Bright yellows, oranges, red, and pink in my garden make me happy. And finally, Swiss chard is healthy and so versatile! Sauté it, throw it in a frittata or quiche, use the baby leaves in salads, and in this case, enjoy it with pasta and cheese.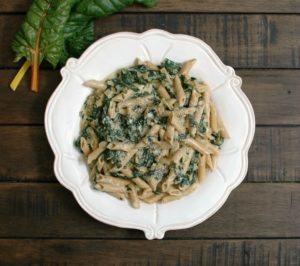 I think most things are probably good with pasta and cheese, but since this dish is packed full of Swiss chard, you can feel good about eating it. Even my toddler ate this! If you don't have Swiss chard taking over your garden, hit up your local farmer's market to score a bunch for a great price. I'm always surprised at how cheap it is. This is definitely an inexpensive, easy, and fairly healthy meal that's perfect for dinner.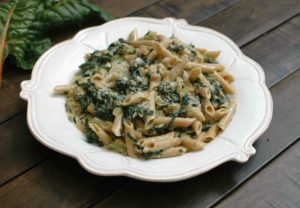 Swiss Chard and Parmesan Pasta
Prep time:
Cook time:
Total time:
Ingredients
12 oz. pasta of choice (I used whole wheat penne)
3 Tbsp. butter
2 cloves garlic, minced
½ yellow onion, chopped
2 tbsp. flour
2 cups half and half
1 large bunch rainbow chard, stems and leaves chopped separately
1 tsp. salt
¼ tsp. ground black pepper
¾ cup parmesan cheese, plus more for topping
Instructions
Bring a large pot of salted water to a boil and cook pasta according to package directions. Drain and set aside.
In the same pot, melt butter. Add garlic, onion, and chopped Swiss chard stems. Cook until tender, stirring occasionally, for about 5 minutes.
Add Swiss chard leaves and cook until wilted.
Add flour and mix. Add half and half and simmer over low heat until thickened.
Add salt, pepper, and parmesan. Stir until combined.
Return pasta to pot.
Serve topped with parmesan cheese and fresh-ground pepper.