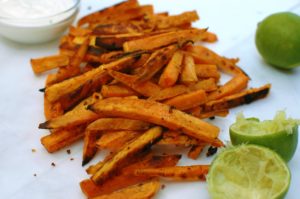 I'm not a big fan of watching sporting events on TV, unless it's the Olympics, in which case I am glued to the TV. My favorite sports are track and field, the marathon, swimming, women's gymnastics, and rowing, but I watch just about anything! Other than the Olympics, however, I don't particularly enjoy watching sports on TV. Live sporting events are another story.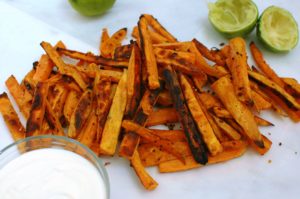 I love the atmosphere of being at a live event, the crowds, and of course the food. I recently went to a Cubs game in Milwaukee and it was my first time at Miller Park. They served bratwurst and cheese curds! Talk about awesome game food. Of course at Wrigley Field they serve Chicago-style hotdogs, and here in Seattle they have garlic fries. These fries are loaded with garlic and so delicious. While I don't recommend them if you're on your first date and happen to be at Safeco Field, any other time they really hit the spot.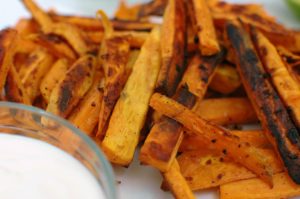 These fries are still loaded with garlic, but I made them with sweet potatoes and baked them.  The aioli dipping sauce is absolutely addicting! I hope you make these for your next game day, alongside some burgers, or for some snacking that's a little more healthy than your typical takeout fries.

Sweet Potato Garlic Fries with Lime Aioli
Prep time:
Cook time:
Total time:
Ingredients
1½ lbs. sweet potatoes (about 2 large)
3 tbsp. olive oil
1½ tsp. salt, divided
½ tsp. garlic powder
¼ tsp. black pepper
2 garlic cloves, minced
½ cup mayonnaise
½ cup plain Greek yogurt
1 lime, juiced
Instructions
Preheat oven to 425 degrees Fahrenheit and line a rimmed baking sheet with foil.
Peel sweet potatoes and cut into fairly uniformly sized sticks, about ¼-1/3 inch across. I recommend cutting longer sweet potatoes in half before cutting into sticks.
Place sweet potato sticks onto baking sheet.
In a small bowl, combine olive oil, 1 tsp. salt, black pepper, garlic powder, and minced garlic. Spread over fries and toss with your hands to evenly coat.
Bake for 25-30 minutes, stirring halfway.
While baking, in a small bowl mix together mayonnaise, Greek yogurt, lime juice, and ½ tsp. salt.
Enjoy your fries dipped in the lime aioli!
Like what you see? Pin it here!