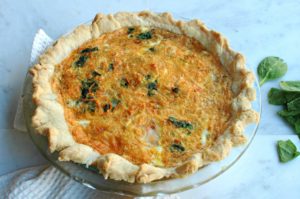 Quiche might be one of my all-time favorite meals. I remember after Easter every year, my mom would make a quick with leftover ham and asparagus and I would love having it as a simple dinner. Of course I love quick for breakfast too, but it's also one of my favorite easy dinners with a side salad. When I tested this recipe, I knew that it was up to the kids and I to finish it since Kevin doesn't like sweet potatoes. Thankfully I had nothing to fear because our one year old, Easton, was devouring this by the slice. Since it's full of sweet potatoes and spinach with plenty of protein from the eggs, I was a happy mama seeing him stuff fistful after fistful into his mouth with glee. Lleyton insisted on using a fork for this meal, which is still a bit of a challenge for him, so he mostly made a mess. I'm pretty sure a few bites made it into his mouth because he kept saying "more quiche!"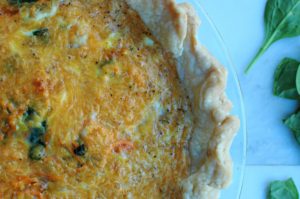 I talked about our family vacation to Bend, Oregon in this post, but the first time we tried going to Bend was before we had kids. It was a chilly Valentine's Day weekend and we were unfortunately turned around by a snowstorm. Instead of driving all the way back to Tacoma, Washington where we lived at the time, we decided to spend the night in Portland. Portland has some amazing restaurants, and before hitting the road the next day to head home, we had brunch at Veritable Quandary. Sadly, the restaurant is no longer open, but I had this incredible sweet potato quiche. I loved the flavor the the sweet potatoes added to the quiche, and when I started this blog I knew that I had to make my own version of it.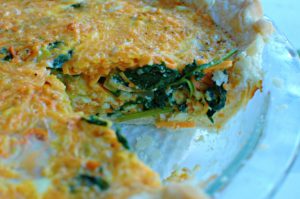 In this recipe, I spiralize the sweet potatoes. It's faster than chopping them and they cook quickly in a frying pan. The skinny sweet potato noodles ensure you get the perfect bite of quick every time. If you don't have a spiralizer, I highly recommend one since it's a fun way to prepare vegetables. You can spiralize just about everything! I love this blog for spiralizing inspiration and ideas. If you don't have a spiralizer and want to make this recipe, you can very thinly slice the sweet potato into matchsticks or peel them with a vegetable peeler into sweet potato ribbons. It should still taste delicious even if the appearance is a little different!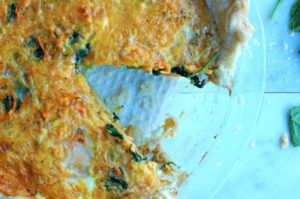 Sweet Potato, Cheddar, and Spinach Quiche
Prep time:
Cook time:
Total time:
Ingredients
1 pie crust (to fit a 9 inch pie crust)*
2 tbsp. olive oil
½ small yellow onion, finely diced
1 medium sweet potato, spiralized*
4 heaping cups spinach
10 eggs
3 tbsp. milk
½ tsp. salt
¼ tsp. ground black pepper
1 cup shredded cheddar cheese
Instructions
Preheat oven to 350 degrees Fahrenheit.
Heat olive oil in a large frying pan. Sauté onion for a few minutes until translucent.
Add sweet potato. Cook for a few minutes until tender.
Add spinach and cook until wilted. Remove pan from heat.
In a large bowl, whisk eggs, milk, salt, pepper, and shredded cheese.
Place pie crust in pan and top with sweet potato/spinach mixture.
Pour egg/cheese mixture over vegetables.
Bake for 35-45 minutes until the center is no longer raw.
Allow to cool at least 20 minutes prior to slicing and serving.
Notes
*I used the recipe from Sally's Baking Addiction (www.sallysbakingaddiction.com) but you can certainly use your own favorite recipe or even a store-bought crust.
*I love my spiralizer! There are a few models online and it's a fun way to prepare vegetables and fruit, although I use it mostly for vegetables. If you don't have one, you can cut the sweet potato into matchsticks, slices, or small cubes. If you use slices or small cubes, layer the sweet potato/spinach mixture with the egg/cheese mixture.