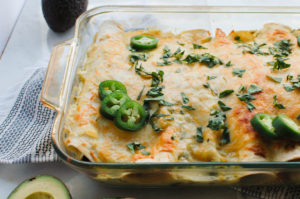 Who doesn't love enchiladas? A tortilla that you can fill with endless options, and cover with sauce and cheese? Sign me up. They're easy to throw together in advance and cover with sauce and cheese before baking, making them a dream for those of you who meal prep. These sweet potato black bean enchiladas are filled with ingredients that are good for you, which I'm going to say cancels out the cheesy topping.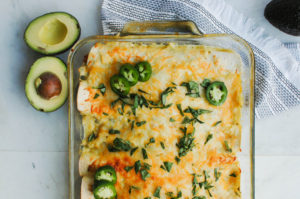 I made sure this recipe wasn't too spicy, because everything that you see on here I feed my kids, but also because I'm a bit of a baby when it comes to food. Kevin is always putting hot sauce on things that he feel should be spicier, but I can't help it! I like to taste my food, ideally without tears streaming down my face.
I love these sweet potato and black bean enchiladas because they use a creamy enchilada sauce. As much as I love a red sauce on enchiladas, after I had this recipe I was a convert to the creamy version.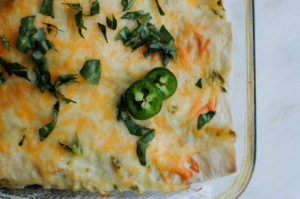 In the time that I've been blogging, I've seen that a lot of you are big hits of meatless options. Whether you're vegetarian, enjoy Meatless Monday, or just cutting out meat when you can, I'm all about it. We eat meatless at least twice a week, and with Lent coming up we'll abstain from meat ever Friday as well. You can expect a lot of delicious meatless meals from me!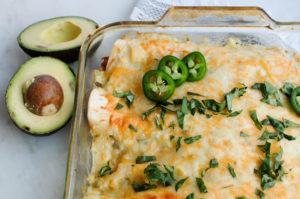 Even if you swear that your enchiladas need to have meat in them, I encourage you to try this version. You'll find that you don't feel stuffed after eating them like you would after those filled with chicken, pork, or beef, and you're getting in some vitamin-packed sweet potatoes. These enchiladas are a win all around.

Sweet Potato Black Bean Enchiladas
Prep time:
Cook time:
Total time:
Ingredients
Enchiladas:
2 tbsp. olive oil
1 large sweet potato, peeled and diced
2 cloves garlic, minced
½ yellow onion, chopped
4 oz. can diced green chilis
2 cans black beans, rinsed and drained
1 tsp. salt
¼ tsp. ground black pepper
1½ tsp. cumin
½ tsp. smoked paprika
¼ tsp. chili powder
Sauce:
1 tbsp. olive oil
½ onion, chopped
2 cloves garlic, minced
1 jalapeno, finely chopped
½ tsp. salt
2 tbsp. flour
2 cups vegetable broth
½ cup sour cream
1 cup shredded cheese of choice*
8 corn or flour tortillas
Instructions
Preheat oven to 350 degrees Fahrenheit.
Heat 2 tbsp. olive oil in a large frying pan. Add sweet potatoes, 2 cloves of garlic, and half of a diced onion. Cook about 10 minutes until sweet potatoes are tender.
Add diced green chilis and black beans and cook until heated through.
Add 1 tsp. salt, ground black pepper, cumin, paprika, and chili powder. Stir to combine.
Set mixture aside in a medium bowl.
In the same pan, heat 1 tbsp. olive oil. Add onion, garlic, jalapeno, and salt and cook until onions are translucent. Add flour and stir to combine.
Add vegetable broth and sour cream and whisk to combine. Allow to thicken to desired consistency.
Spay a 13 x 9 baking dish with nonstick cooking spray. Spread ½ cup of sauce on the bottom of the pan.
Evenly distribute sweet potato and bean mixture between tortillas. Roll up and place seam side down in the prepared dish.
Pour remaining sauce over the enchiladas and top with shredded cheese.
Bake for 30-35 minutes until bubbling.
Top with salsa, sour cream, guacamole, sliced avocado, or fresh cilantro!
Notes
*cheddar, Colby jack blend, or a Mexican cheese blend are all great choices!