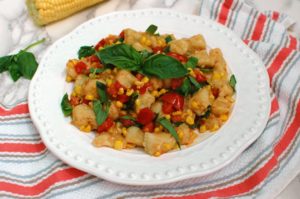 Gnocchi might be my favorite form of pasta. If I'm at a restaurant where it's on the menu, I'd be hard-pressed not to order it. The sauce on it is irrelevant, I just love those little pillow dumplings of goodness. This version doesn't have a traditional sauce. Instead it combines two of the freshest vegetables you can find at your local farmers market (yes I know tomatoes are a "fruit," I'm still calling them vegetables).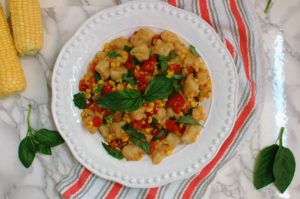 This recipe comes together with a little bit of time as you make the gnocchi, but not very many ingredients! I'm sure you'll love it. When you're using the potato ricer for the gnocchi, just look at it as a forearm workout 🙂

Summer Gnocchi with Corn and Tomatoes
Prep time:
Cook time:
Total time:
Ingredients
3 lbs russet potatoes
3 cups all-purpose flour
1 egg, slightly beaten
¼ cup olive oil
3 cloves garlic, minced
2 cups chopped tomatoes
2 ears fresh corn
½ cup fresh basil, cut into ribbons
1 tsp. salt
¼ tsp. red pepper flakes
¼ tsp. black pepper
Parmesan cheese for topping, optional
Instructions
Cook potatoes. I recommend using a large pot with a steamer basket, but if you plan to boil them, leave the skins on while boiling so the potatoes don't absorb too much water. Once cooked, set potatoes aside until cool enough to handle.
Use a potato ricer to rice the potatoes.
Using your hands, combine potatoes with the flour and egg.
Working with a small amount at a time, roll with your hands into a long snake. Use a pastry cutter to cut into about 1 inch pieces. Place onto a large pan sprinkled with flour while you bring a large pot of salted water to a boil.
While waiting for the water to boil, heat olive oil in a frying pan. Once hot, add garlic and cook until fragrant, 2-3 minutes.
Remove kernels from corn with a large knife and add to frying pan. Cook 2-3 minutes.
Add tomatoes to pan. Season with salt, pepper, and red pepper flakes. Cook another 2-3 minutes.
Remove pan from heat and add basil.
When water comes to a boil, add gnocchi. They are done cooking when they float to the top, which should only take a few minutes.
Drain gnocchi and return to pan. Add corn and tomato mixture.
Serve immediately, topped with parmesan cheese if desired.