I have a confession to make. I don't like making pie crust. Now my husband LOVES apple pie, so a few times a year I'll buckle down and make it, but if it was up to me I'd make cobblers and crisps instead. Easy and delicious? Sign me up.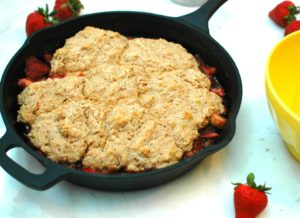 Strawberries and rhubarb scream the start of summer to me. Once the weather warms up and I see strawberries and rhubarb at our local farmstead, I'm scooping them up and making this recipe. Topping it with ice cream is optional, but is it really? The cobbler topping has some whole wheat flour in it, so I think that cancels out the additional indulgence of ice cream. The whole wheat adds a nuttiness that compliments the juicy fruit so well. Whip up this easy dessert and enjoy on one of those perfect early summer evenings.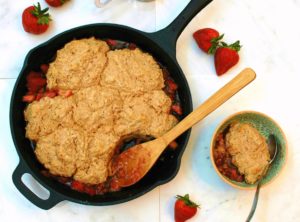 Skillet Strawberry Rhubarb Cobbler
Prep time:
Cook time:
Total time:
This quick and easy dessert is perfect for the start of summer!
Ingredients
4 cups fresh strawberries
4 cups sliced rhubarb
¼ tsp. salt
¼ cup brown sugar
zest of 1 orange
3 tbsp. orange juice
1 cup all-purpose flour
1 cup whole wheat flour
½ tbsp. baking powder
½ tsp. salt
3 tbsp. granulated sugar
½ cup cold butter
1½ cup buttermilk
Instructions
Preheat oven to 350 degrees Fahrenheit.
In a large bowl, mix strawberries, rhubarb, ¼ tsp. salt, brown sugar, and orange zest and juice. Set aside while you make the cobbler topping.
In a medium bowl, add both flours, baking powder, ½ tsp. salt, and granulated sugar. Whisk together.
Cut butter into dry ingredients using a pastry cutter or two forks. Add buttermilk and mix until just combined.
Put fruit mixture into a large cast-iron skillet. I used a 10 inch skillet but another size should work, you just may need to adjust the cooking time.
Scoop cobbler topping onto fruit mixture.
Bake for 40-45 minutes until top is golden brown and fruit is bubbling. Serve warm topped with vanilla ice cream if desired!