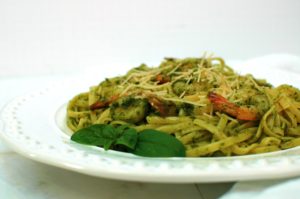 Pesto is one of those things that makes me feel fancy when I eat it. But it really shouldn't, because homemade pesto is so easy! And this version, which I'm calling "poor man's pesto," uses almonds instead of pine nuts. I almost always have almonds in my pantry but pine nuts usually require a special trip to the store. Plus pine nuts are so expensive! Use almonds in this version and I promise it's just as good.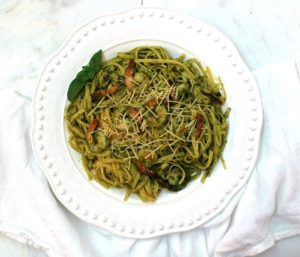 The other great thing about this recipe is how fast it comes together. You can expect to see more pasta recipes on the blog because it is just so easy. This recipe, even with the fancy poor man's pesto and the shrimp, comes together in less than 30 minutes. That makes it ideal for a weeknight, ideal for a spontaneous dinner party, ideal for just about anything. This recipe has nine ingredients. Nine! And that includes salt and pepper.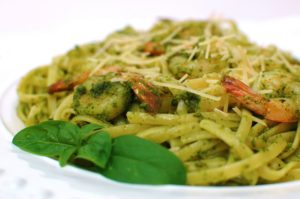 Make this dinner tonight, or plan for it tomorrow. Make it for a date-night-in. You deserve to feel fancy too.

Shrimp Pesto Pasta
Prep time:
Cook time:
Total time:
Ingredients
1 lb. linguini
1 lb. pre-cooked and peeled shrimp
2 cups fresh basil
¼ cup almonds
2-3 cloves garlic
½ cup + 2 tbsp. olive oil
¼ cup shredded parmesan cheese, plus more for topping
1 tsp. salt
¼ tsp. ground black pepper
Instructions
Bring a large pot of salted water to a boil and cook pasta according to package directions. Drain and set aside.
In the same pot, heat 2 tbsp. olive oil and add shrimp. Cook until heated through, 4-5 minutes.
In a food processor, combine basil, garlic, ½ cup olive oil, parmesan cheese, salt, and pepper. Blend until combine.
Add pesto to shrimp and toss to coat. Return pasta to the pot and toss again. Serve immediately topped with cheese.