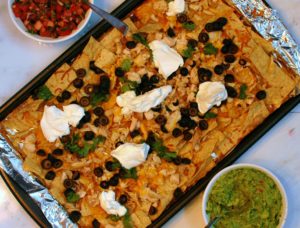 We're about to be best friends. Because I made you sheet pan nachos! We've all ordered nachos at a restaurant, and the chips on the top are covered with cheesy goodness, but the chips on the bottom are soggy.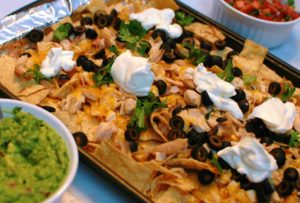 Baking your nachos on a sheet pan solve this problem. You're welcome. These are a great crowd-pleasing appetizer but can also be enjoyed for dinner. Which we did. With no regrets.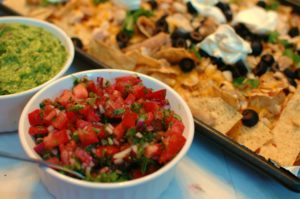 The recipes for guacamole and pico de gallo are simple and quick, but feel free to use your own favorite recipe if you have one! The toppings are endless for these nachos. Feel free to add pickled jalapeños, a different kind of meat, or whatever else you love on your nachos!

Sheet Pan Chicken Nachos
Prep time:
Cook time:
Total time:
Ingredients
5-6 handfulls tortilla chips
2 cups shredded cheddar cheese
1 3.8 oz. can sliced black olives
2 cups shredded chicken
½ cup sour cream
2 roma tomatoes, chopped
½ large red onion, finely chopped
1 jalapeno, seeded and finely chopped
½ cup chopped cilantro
2 limes
2 avocados
½ tsp. cumin
Salt
Pepper
Instructions
Preheat oven to 400 degrees Fahrenheit.
Line a large, rimmed sheet pan with aluminum foil and top with tortilla chips.
Alternate handfuls of cheese and chicken on top of the chips
While the oven is preheating, make pico de gallo and guacamole, although these can easily be made ahead of time too.
For the pico de gallo, in a small bowl combine tomatoes, half of the chopped red onion, half of the cilantro, jalapeño, juice of one lime, and salt and pepper to taste.
For the guacamole, mash the avocados in a small bowl. Add the other half of the red onion and cilantro, cumin, juice of one lime, and salt and pepper to taste.
Bake nachos for 8-10 minutes until cheese is melted.
Top with olives and sour cream, serve immediately with pico de gallo and guacamole.