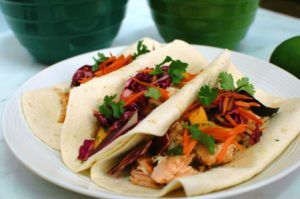 This may be bold to say, but I may prefer fish tacos to any other kind of tacos. Yep, I went there. My exposure to fish tacos was pretty limited until moving to Washington State, and then I had the mahi-mahi fish tacos from this restaurant down on the waterfront in Tacoma and I was a true convert.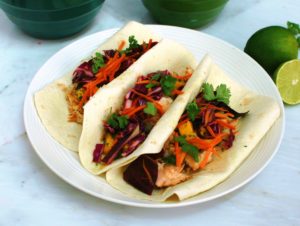 Something about the tender, well-seasoned fish, crunchy slaw, and sweet and spicy salsa in these tacos just reminds me of summer. Since the fish only has to cook for about 15 minutes, the minimal oven time combined with the fresh, summery mangos make this a perfect dish for this time of year. The simple slaw and mango salsa in this recipe would be great with anything! I have a feeling that the mango salsa would also go great on top of grilled chicken if you want to make extra (and you do, trust me. Just make extra).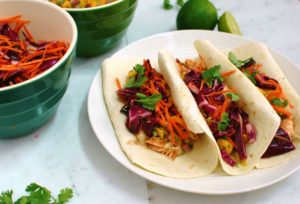 I love this simple Asian slaw because it is quick and easy with just a few ingredients, but provides a brightness of flavor and necessary crunch for these tacos. Make these your new Taco Tuesday recipe 🙂

Salmon Tacos with Mango Salsa
Prep time:
Cook time:
Total time:
Ingredients
1¼ lb salmon
1 tbsp. olive oil
2 tsp. salt, divided
1 tsp. ground black pepper, divided
½ tsp. garlic powder
1 tsp. cumin
½ tsp. chili powder
¼ tsp. + ½ tbsp. granulated sugar
3 tbsp. finely chopped cilantro
¼ cup chopped red onion
2 cups chopped mango
1 lime
½ head red cabbage, thinly sliced
2 carrots, julienned
½ cup apple cider vinegar
1 tbsp. sesame oil
6 taco-sized tortillas
Instructions
Preheat oven to 350 degrees Fahrenheit. Line a rimmed baking sheet with foil and spray with nonstick cooking spray.
Pat salmon dry and drizzle with olive oil. Rub with fingers to coat.
In a small bowl, combine 1 tsp. salt, ½ tsp. pepper, garlic powder, cumin, chili powder and ¼ tsp. sugar. Rub all over fish.
Bake for 15 minutes until fork-tender.
In a small bowl, mix together mango, red onion, cilantro. juice of ½ lime, ½ tsp. salt, and ¼ tsp. pepper.
In another small bowl, mix together red cabbage, carrots, vinegar, sesame oil, ½ tbsp. sugar, ½ tsp. salt, and ¼ tsp. pepper.
Using a fork, flake salmon. In a tortilla, place salmon, slaw, and mango salsa. Top with additional cilantro and a squeeze of lime juice, if desired.