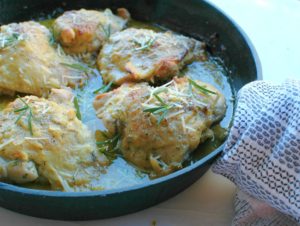 I am a huge fan of my cast-iron skillet. I have dreams of someday owning this one, but for now, I'm super happy with my well-loved significantly cheaper one. You can bake cobblers, skillet cookies, and other delicious treats in it. I use it most for dishes that start on the stove and finish in the oven, like this one.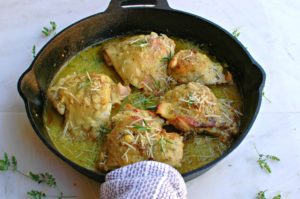 I love my skillet, and I also love chicken thighs. Needless to say, chicken is a popular meat to cook. Chicken breasts are so easy to throw in the crock pot, roasted chicken is a quick, no-fuss meal, and chicken is one of the less expensive meats to buy, with chicken thighs being one of the cheaper cuts. Usually about once a month at our local grocery store, family packs of chicken thighs and drumsticks as well as whole chickens will go on sale. Every time they do, I walk away with a pack each of the thighs and drumsticks and two whole chickens (sometimes three if I know I can fit them all in my freezer!). Then when I meal plan for the week, I open the freezer and see what I have. It prevents me from needing to buy meat when it's full-price and makes sure I always have something in the freezer for the rare occasions where I don't meal plan.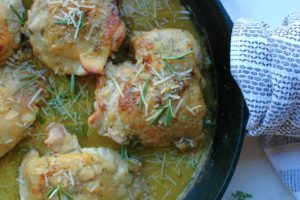 Giada's Roman Chicken is one of my favorite chicken preparations. The recipe calls for both chicken breasts and thighs, but I'll use an family-pack of the chicken thighs instead. I prefer chicken breasts or boneless, skinless chicken thighs for crockpot meals, but when it comes to cooking meat in the oven I like the bone in and the skin on! You don't have to eat the skin, but keeping it on makes sure the meat stays super juicy and flavorful.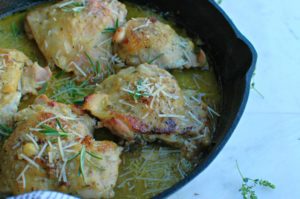 This recipe is now one of my new favorites, and I hope it becomes one of yours too. Chicken thighs may be one of the cheaper cuts of meat out there, but you won't be thinking about that after you take one bite of these!

Rosemary Dijon Chicken Thighs
Prep time:
Cook time:
Total time:
Ingredients
6 chicken thighs, bone-in, skin-on
½ tsp. salt
¼ tsp. ground black pepper
2 tbsp. chopped fresh rosemary
2 tbsp. olive oil
2 cloves garlic, minced
½ yellow onion, finely chopped
1 cup white wine*
¼ cup Dijon mustard
1 tbsp. all-purpose flour
Instructions
Preheat oven to 425 degrees Fahrenheit.
Pat chicken thighs dry and season on both sides with salt, pepper, and rosemary.
Heat olive oil in a cast-iron skillet and add garlic and onion. Cook until translucent.
Push garlic and onion mixture to the side and add chicken thighs and cook until golden brown on each side, about 8-10 minutes.
In a small bowl, whisk together white wine, mustard, and flour.
Pour this mixture over the chicken.
Transfer skillet to the oven and cook for 20-25 minutes, until the internal temperature reaches 165 degrees Fahrenheit.
Enjoy!
Notes
*I almost always use chardonnay for cooking when I need a white wine.
Like what you see? Pin it here!