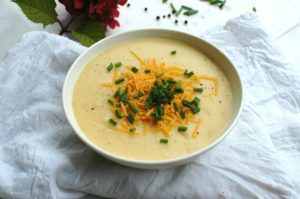 I absolutely love having people over and entertaining. Whether it's for a football game and I'm putting out an endless spread of appetizers, a birthday party for one of the kids, or having friends over for dinner, I love making good food and enjoying it with people I love in our home. Looking back on my childhood, it's no surprise where I got that from. My parents, especially my dad, love to entertain.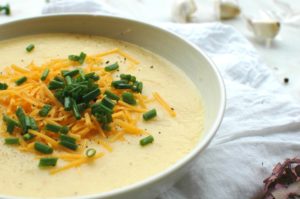 I remember for certain occasions, we would use this beautiful blue and white china that was hand-painted by my great-great grandmother on my dad's side of the family. Once I was old enough, I was allowed to sit at the "adult" table instead of the "kids" table and could carefully eat from the special china. My dad always liked to start with a soup and a salad. The salad he made, and still makes, was thinly sliced escarole with an amazing warm bacon vinaigrette. He still makes this salad for every holiday and it's to die for! Last year my parents came to Seattle for Christmas and my dad made the salad. Absolutely delicious.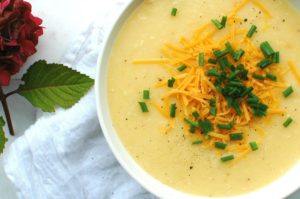 The soup that my dad always made was a cream of cauliflower soup. It was so simple, but so delicious. It was a soup that I had to remind myself not to enjoy bowl after bowl of because I knew that an amazing main course and dessert were coming. Still, it was hard to hold back!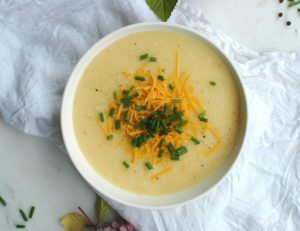 This soup is simple and delicious, great to have for an easy dinner alongside a grilled cheese or a salad. But it's also the perfect soup if you're looking for a starter soup when entertaining or something to serve with Thanksgiving or Christmas dinner. It would be a equally great precursor to Thanksgiving Turkey or Christmas ham. Full of creamy potatoes, cheddar cheese, and roasted garlic, you'll have to remind yourself not to eat bowl after bowl if you're serving this as a starter! I happen to love garlic, but if you aren't as big of a fan as me you can certainly cut down by a few cloves. It is important to have most of the garlic roasted but a few cloves cooked with the onion, it adds more dimension to the garlic flavor!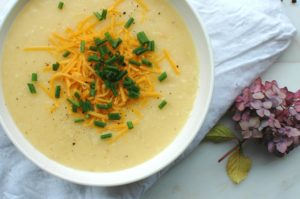 Roasted Garlic Potato Cheddar Bisque
Prep time:
Cook time:
Total time:
Ingredients
3.5 lbs. russet potatoes
20-30 cloves garlic
1 tbsp. olive oil
2 tbsp. butter
1 medium yellow onion, diced
2 cups broth or stock
2 cups milk (I used whole milk)
1 cup shredded cheddar cheese
½ tsp. ground black pepper
1 tsp. salt*
Instructions
Preheat oven to 350 degrees Fahrenheit. Peel garlic cloves and put all but 5 cloves onto a rimmed baking sheet and drizzle with olive oil. Bake until fragrant and slightly browned, about 10-12 minutes.
Peel, chop, and boil potatoes until tender. Drain completely and set aside.
In a large pot, melt butter. Mince the remaining 5 cloves of garlic and add that to the pot with the onion. Cook until translucent.
Add potatoes, milk, and broth to the pot. Either using an immersion blender or working in batches with a high-speed blender, thoroughly combine.
Return pureed soup to pot. Stir in cheddar cheese, black pepper and salt.
Taste, adjust seasonings and serve! Top with additional cheddar cheese or snipped chives if desired.
Notes
* depending on the amount of salt in your broth, you may want to add more salt to the soup. Taste and season accordingly!
Like what you see? Pin it here!