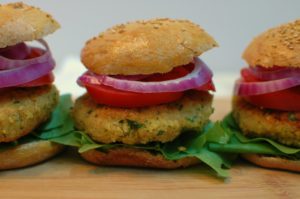 Confession: the first time I made these burgers, it was an accident. I was making hummus one afternoon and had soaked my chickpeas overnight like Molly Yeh told me to in her cookbook because she is the hummus queen. While I'm making the hummus the next day, I completely SKIP the step of cooking the chickpeas and threw them right in the food processor. It took me a few minutes to figure out why the hummus wasn't getting creamy and why it didn't taste right. As I stared at my food processor full of raw chickpeas, I tried to figure out what to do with it to avoid wasting them.
Enter the roasted garlic chickpea burger.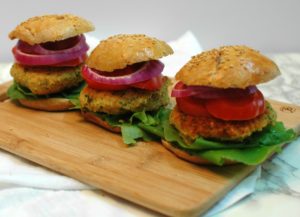 I also had a bunch of roasted garlic left from my perfect roast chicken and combined them to make the most delicious chickpea burger. If you haven't made my perfect roast chicken (but really, why haven't you? It's amazing), there's a step in the recipe below to roast your own garlic.
This recipe does call for chickpeas soaked overnight, which does require some planning. These burgers do freeze very well with wax or parchment paper in between them to prevent sticking. That means whenever you remember to soak the chickpeas, you can have these burgers in your freezer and ready to go for a quick lunch or dinner.

Roasted Garlic Chickpea Burgers
Prep time:
Cook time:
Total time:
Ingredients
2½ cups dry chickpeas
1 tsp. baking soda
30-40 cloves garlic*
3 tbsp. olive oil
3 tbsp. all-purpose flour
1 egg
1½ tsp. salt
¼ tsp. pepper
½ cup chopped parsley
3 tbsp. vegetable or canola oil
Instructions
Soak chickpeas for 10-12 hours or overnight in a large bowl with 1 tsp. baking soda. Ensure the chickpeas are covered by a few inches of water as some of it will be absorbed.
Rinse and drain chickpeas.
If you do not have roasted garlic on hand, preheat oven to 400 degrees Fahrenheit, place garlic on a rimmed baking sheet and drizzle with olive oil and cook until tender and fragrant.
In a food processor, combine chickpeas, olive oil, garlic, flour, salt, and pepper and blend until chickpeas are in small pieces. Transfer to a bowl.
Using a spoon (or your hands!) mix in flour, egg, and parsley.
Form the mixture into patties; this should make 8-9 patties
Heat vegetable/canola oil in a pan over medium heat. Once hot, place the patties in the pan, cooking 5-6 minutes per side until golden brown.
Place on wire rack to cool slightly before eating. Cool completely before freezing.
Serve on buns, over salads, etc.!
Notes
*The leftover garlic from my Perfect Roast Chicken can be used in this recipe. If you have not made that recipe, instructions for roasted garlic are included in this recipe.