I love cornmeal in baked goods. Cornbread is the obvious go-to, and I do love that. But incorporating cornmeal into other baking is a great idea too. The texture, flavor, and yellow color it adds to baked treats are all delicious. The raspberry and lemon in these combined with the cornmeal are going to make you want to bake these again and again.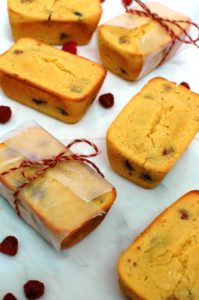 I used a mini-loaf pan here because they are so darn adorable, but you could also use a regular-sized loaf pan or a muffin tin and just adjust your cooking time. I would recommend using non-stick cooking spray and parchment paper for easy removal if you're going to use a regular-sized loaf pan.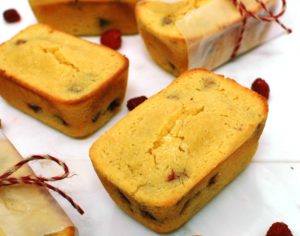 Or you can go get yourself a mini-loaf pan! These would make great gifts or would be fun for perfectly portioned breakfasts if you're hosting guests. Yes and yes.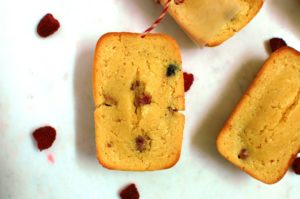 I mean, come on. Look at that adorable little lemon cornmeal loaf that's also bursting with raspberries. Does that make it a win-win-win? I think it does.

Raspberry Lemon Cornmeal Loaves
Prep time:
Cook time:
Total time:
Ingredients
2 cups all-purpose flour
1 cup yellow cornmeal
1 cup sugar
1 tsp. salt
1½ tsp. baking powder
2 eggs
½ cup butter, melted and cooled
1½ cups buttermilk*
1 tbsp. lemon zest
1½ cup fresh raspberries
Instructions
Preheat oven to 350 degrees Fahrenheit and spray a mini loaf pan with non-stick cooking spray (my pan makes 6 mini loaves).
In a large bowl, mix flour, cornmeal, sugar, salt, and baking powder.
In a small bowl, whisk together eggs, butter, buttermilk, and lemon zest.
Add wet ingredients to dry ingredients and mix until just combined.
Fold in raspberries.
Distribute evenly between 6 mini loaf pans.
Bake for 25-30 minutes until a toothpick inserted into the loaf comes out clean
Notes
*If you don't have buttermilk, put 1 tbsp. + 1 tsp. apple cider vinegar in a measuring cup and fill to the 1½ cup mark with whole milk. Let sit a few minutes then proceed with the recipe!