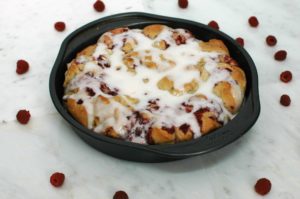 Happy Monday! How was your weekend? On Saturday we packed up the kids and drove to Leavenworth, WA. It's a little Bavarian town in the middle of the mountains and we had such a great time. Perfect weather, great food and beer, and gorgeous views. I hope your weekend was just as fun!
Last week a friend of mine asked if we wanted to come to her house to pick raspberries from the overabundance that she has in her backyard. Of course I jumped at the opportunity! Lleyton spent most of the time eating as many raspberries as he could, but I filled up my bucket to make sure I had some juicy goodness to bring home. I have a LOT of raspberries so stay tuned for a few more raspberry recipes 🙂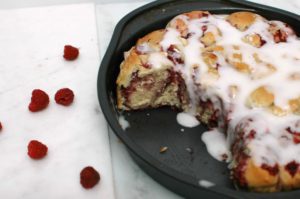 These breakfast buns are so delicious! Perfect for a summer breakfast and super easy to make ahead. They're made similar to a cinnamon roll, but a little messier while rolling because they are full of juicy raspberries! Don't worry if the buns aren't perfectly shaped, once they bake in the oven and are topped with glaze they are just as delicious.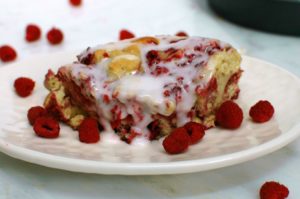 Raspberry Breakfast Buns
Prep time:
Cook time:
Total time:
Ingredients
3½ cups all-purpose flour
5 tbsp. granulated sugar
1 tsp. baking powder
½ tsp. baking soda
½ tsp. salt
1 cup buttermilk*
2 tbsp. melted butter, cooled slightly
⅓ cup honey
3 cups fresh raspberries
1 cup powdered sugar
1 tbsp. milk
Instructions
In a medium bowl, whisk together flour, 3 tbsp. sugar, baking powder, baking soda, and salt.
In a small bowl, mix together buttermilk, butter, and honey.
Add wet ingredients to dry ingredients and mix until combined. The dough will be sticky. You can add a little more flour if necessary.
Allow to cool in refrigerator at least one hour or overnight. I usually make the dough the night before and then assemble and bake in the morning.
Preheat oven to 375 degrees Fahrenheit.
In a small saucepan, place raspberries and 2 tbsp. sugar. Cook until the raspberries begin to break apart. Set aside to cool.
Spray a 9 inch round cake pan with baking spray.
Roll out dough into a large rectangle, roughly 8 x 12 in size with ½ inch thickness. Spread raspberry mixture over dough.
Carefully roll the dough and slice pieces about 2-3 inches in size. Place in pan. Its ok if the rolls are not perfect, it will still be delicious once it bakes.
Bake 25-28 minutes until golden brown.
For the glaze, combine powdered sugar and milk. Drizzle over buns. Enjoy!
Notes
*If you don't have buttermilk, put 1 tbsp. of vinegar in a measuring cup and fill to the 1 cup line with whole milk. Let sit for a few minutes and then proceed with the recipe!