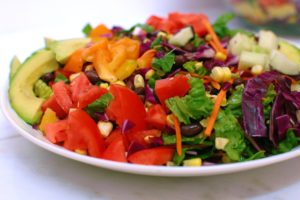 This salad came together in after a highly necessary crisper clean-out. When I go grocery shopping, I have a list and try to stick to it, but in the summer with the abundance of fresh produce I find myself adding lots of extra vegetables to my shopping cart. There are worse problems to have, am I right?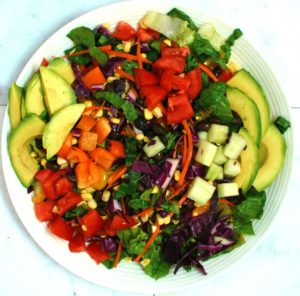 But as I looked through the refrigerator prior to going out of town for ten days, I knew I needed to make quick work of using up a lot of ingredients. Thankfully, salads are a trend that are never going out of style, and I always keep the ingredients on hand for quick, homemade vinaigrettes.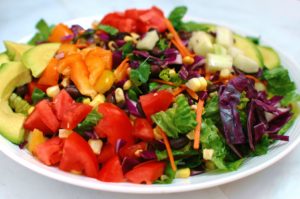 Some people may think that salads aren't a great entree because they aren't as filling. I think they're the perfect dinner, and we eat a lot of salads for dinner in our house. I find that they take longer to eat, making you more aware of when you're full. They're easy to add protein to as well, this one has black beans and avocado, and I'm a big fan of adding quinoa to salads like in my Thai kale quinoa salad. And it goes without saying how full of veggies this one is, and you're getting all your colors in! Eat the rainbow!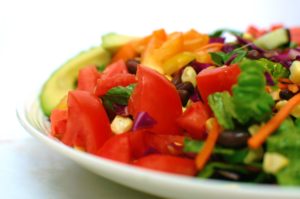 If you have other vegetables in your crisper that need to be used up, through those bad boys in here. Make extra vinaigrette, put it on salads throughout the week, take a bath in it, do your think. I won't judge you.

Rainbow Chopped Salad
Ingredients
1 head romaine lettuce, chopped into bite-sized pieces
2 cups chopped tomatoes (about 1 pint halved cherry tomatoes or 4-5 chopped Roma tomatoes)
2 avocado, cubed
½ head red cabbage, thinly sliced
2 carrots, peeled and julienned
1 cucumber, peeled, seeds removed, and diced
1 can black beans, rinsed and drained
3 ears fresh corn, kernels removed
½ cup white wine vinegar
½ cup olive oil
Juice of 1 small lemon
1 tsp. salt
3 tbsp. dijon mustard
2 tbsp. honey
½ tsp. garlic powder
¼ tsp. ground black pepper
Instructions
In a small bowl, whisk together vinegar, olive oil, lemon juice, salt, mustard, honey, garlic powder, and pepper. Add more salt and pepper to taste, if desired.
In a large bowl, toss all vegetables except avocado.
Add vinaigrette and toss again.
Top with avocado and serve immediately. If not serving immediately, leave the vinaigrette off until just before serving.