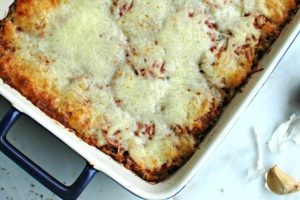 Quinoa is a pantry staple in our house. It's so versatile and can add protein to any dish; served with salads, as a side dish, or in a casserole, it's something I highly recommend keeping on hand. It cooks quickly too, which is always a help come dinnertime. This is also a great make-ahead dish for those of you who meal-prep.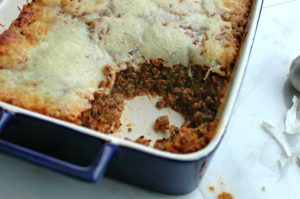 I'm always trying to find quick, fairly-healthy meals that will be filling and leave enough for leftovers. I've made a Mexican quinoa casserole for years and was looking to mix it up. Since quinoa is so versatile, it's easy to pair it with just about any flavor combination. Italian sausage and pepperoni satisfy your pizza craving in a low-carb way!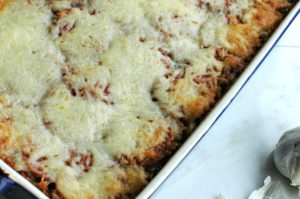 Even Lleyton has started to say "quinoa," so I suppose that means I'm serving it often enough! Both kids ate this dish too, and I know that parents everywhere appreciate a kid-friendly dish. Although, Easton mostly just picked out the sausage because he's a true carnivore and can't get enough meat!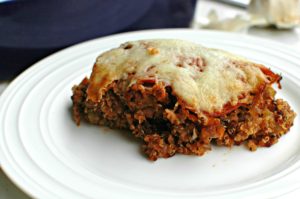 Quinoa Pizza Casserole
Prep time:
Cook time:
Total time:
Ingredients
1 lb. Italian sausage
1 tbsp. olive oil
1 medium yellow onion, chopped
1 green bell pepper, chopped
3 cloves garlic, minced
2 cups cooked quinoa
1 15 oz. can tomato sauce
½ tbsp. Italian seasoning
1 tsp. salt
¼ tsp. ground black pepper
4 oz. sliced pepperoni
1 cup shredded mozzarella cheese
Instructions
Preheat oven to 350 degrees Fahrenheit.
In a large pan, brown Italian sausage, breaking into smaller pieces as it cooks.
Add olive oil, onion, bell pepper, and garlic and cook until onions are translucent.
Remove pan from heat. Stir in quinoa, tomato sauce, Italian seasoning, salt, and pepper.
Spray a baking dish with non-stick cooking spray and spread with quinoa mixture.
Top with sliced pepperoni and shredded cheese.
Bake for 20-30 minutes until cheese is melted and casserole is bubbling.