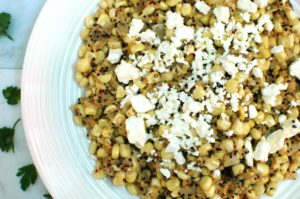 Have you heard of elote? It's Mexican street corn and is a delicious mess to eat. When I first heard what the ingredients were I wasn't sure it would be something I was interested in. Mayonnaise and chili powder? But let me tell you, it's so good.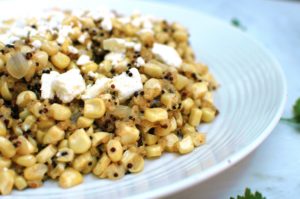 When we're enjoying dinner as a family, it means Kevin and I try to eat bites in between making sure Lleyton eats his dinner and feeding Easton, so corn on the cob is a bit of a hassle. But this! This can be eaten with a fork with one hand, which means the other hand can be used for feeding children. Plus that makes this a great dish to have out at a summer BBQ.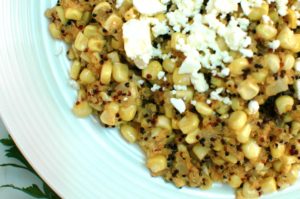 I put quinoa in this for some protein and texture. As you can see from my Thai kale and quinoa salad, I'm a big fan of quinoa in salads. I love the health benefits of quinoa, the added protein, and the texture. I throw it in dishes whenever I can! I hope you make this at your next cookout. Take advantage of the delicious corn that summer has to offer and whip up this quick and easy side dish, with a combination of flavors that will surely make you go back for seconds. And thirds.

Quinoa Elote
Prep time:
Cook time:
Total time:
Ingredients
4 ears of corn, kernels removed
2 tbsp. butter
¼ cup mayonnaise
1 small yellow onion, finely diced
1 tsp. salt
1 lime, juiced
½ tsp. chili powder (or more if you want it spicier!)
¼ tsp. ground black pepper
1 cup cooked quinoa
½ cup cotija cheese
Instructions
Melt butter in a large frying pan. Add onions and cook until translucent.
Add corn to pan and cook 2-3 minutes. Add quinoa and mix. Remove from heat.
In a small bowl, combine mayonnaise, salt, lime juice, chili powder, and black pepper.
Add mayonnaise mixture to corn and quinoa mixture and mix to coat.
Serve topped with cotija cheese.