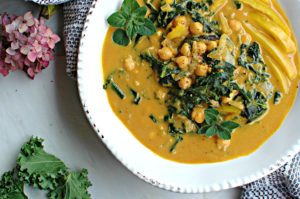 Curry has got to be one of the coziest fall meals that you can have. It has just the right amount of spice from the curry paste but the coconut milk and pumpkin keep it super creamy and delicious. This version is packed with vitamins from the kale, bell pepper, and pumpkin. And since I'm keeping it vegan for you, the protein comes from chickpeas.
The first curry recipe that I posted on the blog was this one. Made in the crock pot and topped with fresh mango, it's perfect for warmer weather when you don't want to turn on the stove or oven. This curry recipe is perfect for fall. Once we start hitting cooler weather, fresh, local produce usually consists of squash, pumpkin, and winter greens. I absolutely love those vegetables though, and look forward to getting creative with them for you this winter.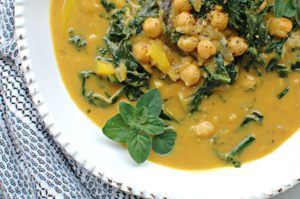 Curry paste and coconut milk have become staples for me. Once I saw how inexpensive coconut milk was at Trader Joe's I've been picking up a few cans every time I go. Whether I use them in curry, make coconut cream to top baked oatmeal with, or drizzle it into my decaf coffee, I have come to love it.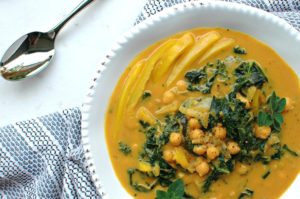 If you haven't tried curry yet, I am begging you to! I had curry for the first time a few years ago and love tucking into a yummy bowl of it. On rice, rice noodles, pasta, or just by itself, it's a super easy and delicious meal that you're sure to enjoy.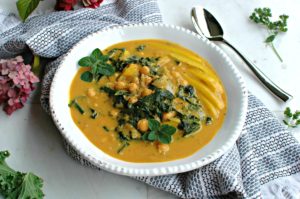 Pumpkin, Kale, and Chickpea Curry
Prep time:
Cook time:
Total time:
Ingredients
2 tbsp. sesame oil
½ yellow onion, diced
3 cloves garlic, minced
2 inch knob fresh ginger, minced
1 large bunch of kale, chopped
1 15 oz. can pumpkin puree
1 15 oz. can full-fat coconut milk
2 tbsp. red curry paste
1 15 oz. can chickpeas, rinsed and drained
1 yellow, red, or orange bell pepper, chopped
½ tsp. salt
¼ tsp. ground black pepper
Instructions
In a large frying pan, heat sesame oil. Add onion, garlic, and ginger and cook until onions are translucent.
Add kale and cook until wilted.
Add coconut milk, pumpkin puree, and curry paste and stir to combine. Heat until bubbling and then reduce heat.
Stir in chickpeas, salt, and ground black pepper. Add bell pepper and cook for just a few minutes to allow the peppers to retain some crunch.
Serve on top of rice, rice noodles, pasta, or enjoy by itself!
Like what you see? Pin it here!