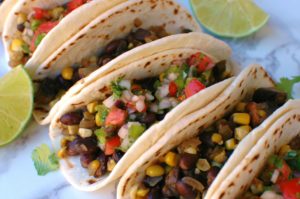 Some of the recipes that I make for this blog are inspired by a single ingredient. Maybe it's something I found on sale at the store that wasn't on my grocery list, maybe it's something lingering in the refrigerator or pantry, or maybe I see something that inspires me. In this case, it was a little bit of all of those. I'm a sucker for a good deal and always try to save money at the grocery store. When I found some discounted portobello mushrooms, I needed to scoop them up. Portobellos are sometimes on the more expensive side as far as mushrooms go, so naturally I was happy to find them and save a few dollars at the same time.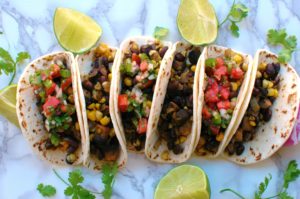 One of the things I love most about portobello mushrooms is their meaty texture and flavor. I know that they would be perfect in some vegan tacos! I'm sure some people read "vegan" and they see "flavorless" but that's simply not true! These tacos are delicious, packed with flavor, and Kevin and I both had seconds.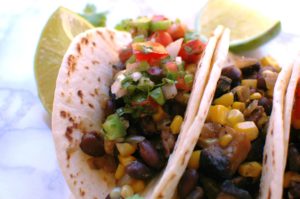 I wrote about it in this post for my quinoa stuffed poblanos, but we try to eat meatless at least twice a week. With recipes like this, we don't even miss it! Make these tacos for your next Meatless Monday, Taco Tuesday, or any other day of the week where you're looking for a quick and healthy meal.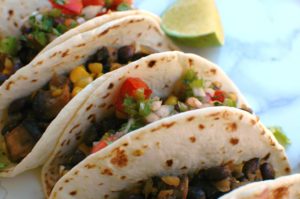 Portobello Black Bean Tacos
Prep time:
Cook time:
Total time:
Ingredients
2 tbsp. olive oil
½ yellow onion, finely diced
1 clove garlic, minced
8 oz portobello mushrooms*
1 ear of corn, kernels removed
1 can black beans, rinsed and drained
1 tsp. cumin
½ tsp. salt
¼ tsp. ground black pepper
¼ tsp. chili powder
For the Pico de Gallo (for serving, optional)
1 large tomato, diced
1 jalapeno, seeded and finely diced
½ small red onion, finely diced
4 tbsp. chopped cilantro
juice of 1 lime
salt and pepper to taste
Taco shells, for serving
Instructions
Heat olive oil in a large frying pan.
Once hot, add onion and garlic and cook until onions are translucent.
Add portobello mushrooms and cook for another 3-4 minutes until mushrooms are tender.
Add corn and black beans and cook another 3-4 minutes.
Add cumin, salt, pepper, and chili powder and stir.
For the Pico de Gallo, in a small bowl combine tomato, jalapeño, red onion, cilantro, and lime juice. Season to taste with salt and pepper.
Serve tacos in taco shells and top with Pico de Gallo. Enjoy!
Notes
*The mushrooms will end up being cubed so it doesn't matter if you purchase them whole or pre-sliced.