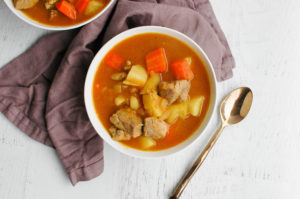 In this recipe I'm unveiling one of my little secrets: I love to add a cup or so of pumpkin puree to soups and strews. It adds an amazing richness to the broth and makes it creamy without adding milk or cream. It also means we're packing in some extra nutrients from vitamin-rich pumpkin. Yes please! Pumpkin and pork stew is similar to beef stew with your standard ingredients: meat, potatoes, carrots, and onions. But the addition of the pumpkin to the broth takes this to the next level. I encourage you to try adding some pumpkin puree to your next batch of stew or chili.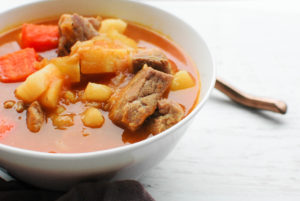 But lets talk more about this recipe. It's comforting, it's exactly what you want on a chilly winter day with a hunk of crusty bread. Maybe slather that bread with butter and add a pinch of sea salt (my favorite way to eat it), or maybe you just dunk the bread right into the rich pumpkin broth. I won't tell you how to enjoy this stew, but I will tell you that you'll probably want to go back for seconds.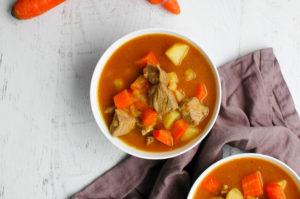 Here's the other beauty of stews. You can really use whatever cut of meat you want. It's going to simmer it that yummy broth until it's super tender. Remove any bones from the cut you get and cut off any large chunks of fat, cut into cubes and brown! So easy and you're guaranteed to end up with some tender meat.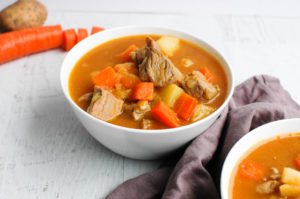 Also, I love a meal where I don't have to make any side dishes. This has your protein, carbohydrates, and vegetables packed into one cozy bowl. While you can certainly serve this with a fresh green salad or crusty bread on the side, you certainly don't have to. And just in case you don't polish off this whole pot of stew in one night, it makes excellent leftovers.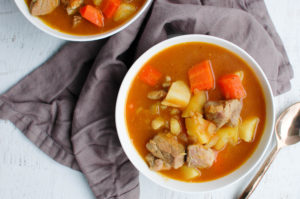 Pork and Pumpkin Stew
Prep time:
Cook time:
Total time:
Ingredients
2½ lbs. of pork, cubed, bones removed and large pieces of fat trimmed
1 yellow onion, diced
3 cloves garlic, minced
4 large carrots, peeled and cut into bite-sized chunks
3 lbs. potatoes, peeled and cut into bite-sized chunks
8 cups broth of choice
1 bay leaf
1 tsp. thyme
¼ tsp. ground black pepper
1 tsp. salt
1 15 oz. can pumpkin puree
Instructions
Place a large pot over medium heat and add pork. Brown on all sides.
Add onions and garlic and cook until onions are translucent.
Add carrots, potatoes, broth, bay leaf, thyme, pepper, salt, and pumpkin puree. Stir to combine.
Let simmer until potatoes and carrots are tender, about 20-30 minutes.
Remove bay leaf and serve.
Notes
*Use your cut of choice! It will end up being super tender.