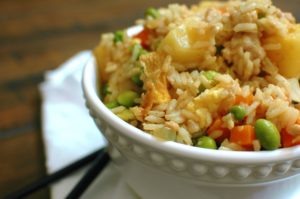 Whenever we get Chinese takeout and I get an entree with white rice on the side, I always upgrade to fried rice. Sometimes I just get fried rice instead of an entree, because it's just that good! This homemade fried rice makes a large batch, so you can enjoy it as a side dish or main dish and still have leftovers for lunch tomorrow. No sad desk lunch for you, my friend!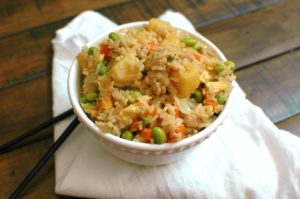 Our toddler, Lleyton, was initially skeptical of edamame. For some reason we started calling them "jumping beans" and now he loves it! He's also been known to call raw purple cabbage "purple crunchy." Thankfully he's a pretty healthy eater, but if calling foods by a different name leads him to be more willing to try new things, I'm all for it.
This is a quick and easy dinner that your whole family is sure to enjoy. You can always use pre-cooked brown rice or make some the day before you plan to have this for dinner. That will save you even more time if you're in the middle of pre-dinner chaos before anyone gets too hangry.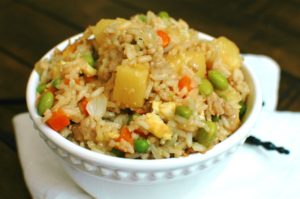 Pineapple Fried Rice
Prep time:
Cook time:
Total time:
Ingredients
1.5 lbs. ground pork
3 cups cooked rice (white or brown)
1 small onion, chopped
2 cloves garlic, minced
2 inch knob fresh ginger, grated or finely minced
1 cup frozen, shelled edamame
1 12 oz. package frozen peas and carrots
3 tbsp. sesame oil
¼ cup soy sauce
3 tbsp. rice vinegar
½ tsp. salt
¼ tsp. ground black pepper
3 eggs, beaten
1½ cups chopped pineapple (fresh or canned in juice and drained)
Instructions
In a large pot, heat sesame oil. Add ground pork, onion, garlic, and ginger. Cook until pork is browned, stirring occasionally and breaking pork into pieces with a spatula.
Add edamame and peas and carrots, Cook until no longer frozen.
Push meat and vegetable mixture to the side and drizzle some oil into the open space. Add eggs and cook until no longer raw, flipping after cooked on one side. Break cooked egg into pieces and stir into meat and vegetable mixture.
Add cooked rice and stir to combine.
In a small bowl, mix together soy sauce, rice vinegar, salt, and pepper. Add to rice mixture and stir to combine.
Add pineapple and stir to combine.
Taste and add additional salt and pepper if desired.
Enjoy!