There are a lot of roast chicken recipes out there. Some have fresh herbs, or lemon juice, or garlic. This one has a little bit of all of that! It's easy enough for a weeknight dinner but easily fancy enough to serve guests. Personally, I love a dish like this that I can put in the oven while I socialize with guests and it's ready to go when I need it.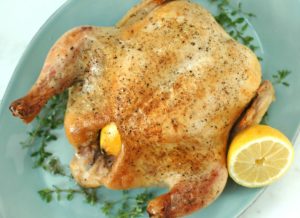 This recipe doesn't disappoint. In about an hour you'll have a perfect, juicy roast chicken with the most delicious pan juices. I know there's a lot of garlic in here, but you can easily use it after the chicken is cooked in my roasted garlic chickpea burgers, on a flatbread, tossed in pasta, added to hummus, or spread on crusty bread with some cheese.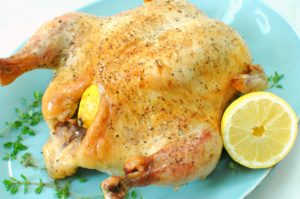 Perfect Roast Chicken
Prep time:
Cook time:
Total time:
This is the most delicious, juicy, roast chicken and the only roast chicken recipe you'll ever need!
Ingredients
1 whole chicken
30-40 cloves garlic
½ cup white wine
1 lemon
1 cup chicken broth
kosher salt
fresh ground pepper
12-14 sprigs fresh thyme
Instructions
Preheat oven to 475 degrees Fahrenheit.
Rinse chicken and remove neck and giblets. Drain and pat dry.
Peel garlic (tip: blanch in boiling water for 30 seconds and remove skins under cold water easily).
Place garlic, white wine, and chicken broth in the bottom of large Dutch oven. Place thyme inside chicken. Prick lemon all over with a fork and insert into chicken cavity.
Place chicken in Dutch oven. Salt and pepper all over.
Put chicken in preheated oven for one hour or until internal temperature reaches 165 degrees.
Base 2-3 times while cooking if desired.
Let rest for 10 minutes then enjoy!