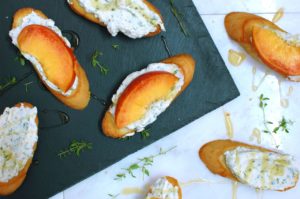 I love entertaining. I love cooking a big delicious meal and hosting friends and family in our home. But I do think it's possible to enjoy a great meal that doesn't require the host to be in the kitchen for the entire time the guests are there. I'm a huge fan of entrees that require minimal attention in the oven, like my perfect roast chicken, and appetizers that come together in just a few minutes, like this one.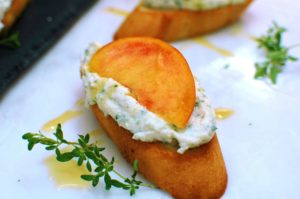 With fresh summer peaches, it doesn't take many ingredients to compliment them and make them shine. Crispy French bread, creamy herb-filled ricotta, and juicy peaches topped with honey and sea salt combine all the right flavors without taking a lot of prep time or ingredients.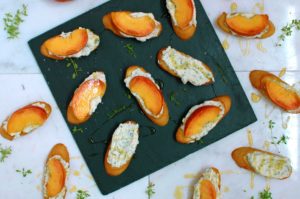 These little bites of deliciousness will definitely not last long at the next dinner party you host. And the best part? You'll be enjoying them right alongside your guests.

Peach Ricotta Crostini
Ingredients
16 slices French bread
2 tbsp. olive oil
1 cup ricotta cheese
2 peaches,sliced
2 tbsp. fresh thyme
1 tsp. salt
½ tsp. honey + more for drizzling
Sea salt, for topping
Instructions
Preheat oven to 375 degrees Fahrenheit. Brush French bread slices with olive oil on both sides and bake for about 10-12 minutes until golden brown, flipping halfway through cook time. Let sit until cook enough to handle.
In a small bowl, whip together ricotta, thyme, salt, and ½ tsp. honey. Spread onto crostini slices.
Top each piece of bread with a peach slice, then drizzle with honey and sprinkle with sea salt.
Serve immediately.