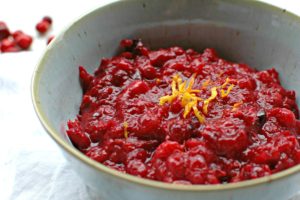 I will admit, I'm the only person in our house who likes cranberry sauce. But it is so easy to make that I still whip up a batch of this cranberry sauce for my enjoyment every year! When it comes to cranberry sauce, I even like the kind that comes out of a can. I have nothing against the smooth, tart jelly, but I have been making my own cranberry sauce for years. Last year I discovered this recipe for coffee cake that uses your leftover cranberry sauce and while my family doesn't eat cranberry sauce by itself, they do love this coffee cake!
Oranges and cinnamon are classic flavors to pair with cranberry sauce, but there are certainly many, many versions of cranberry sauce out there. If you've never made your own, this is a great place to start. It's a great dish to make ahead since it can be served cold from the refrigerator or at room temperature, but it's also simple enough to whip up on Thanksgiving Day itself if you can spare a burner on your stove.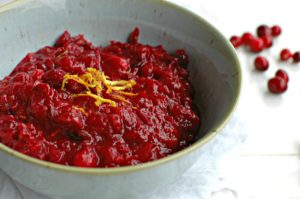 There are a lot of other show-stealers on Thanksgiving: dressing and mashed potatoes are usually fan favorites, but cranberries have earned the right to be at the Thanksgiving table. Cranberries are one of the only fruits indigenous to North America. If you do your research you will find others, but of the more commonly-known fruits, cranberries are one of just three fruits that are native to North America. Given the history of Thanksgiving, I think that means they've earned a place at your table.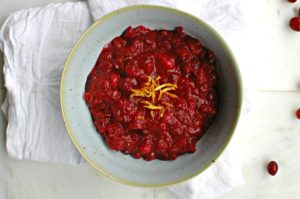 Since tomorrow is Thanksgiving, I wanted to take this opportunity to wish each of you a very Happy Thanksgiving. We have a lot to be thankful for in our household this year; last year my due date with Easton was Thanksgiving and now he is just 9 days away from his first birthday. I am so, so thankful for my boys and our sweet family of four!

Orange Cinnamon Cranberry Sauce
Cuisine:
Thanksgiving side dish
Prep time:
Cook time:
Total time:
Ingredients
One 12 oz. bag of fresh cranberries
Zest of 1 orange
1 cup of orange juice*
¼ tsp. ground cinnamon
1 tbsp. brown sugar
Instructions
Place all ingredients in a saucepan on the stove. Start with the heat on medium and once the orange juice begins to boil, reduce heat to low.
Cook until cranberries have burst and the sauce has reached it's desired consistency.
Serve warm, room temperature, or cold.
This recipe can be made up to a few days in advance and refrigerated until ready to serve.
Notes
*I recommend using 100% juice, no sugar added.