I'm certainly not the first person to find oranges and chocolate to be a delicious combination, but if you've never tried those flavors together,  please let me be the first to introduce you to orange chocolate chip scones! The bright orange zest combined with the rich chocolate is the perfect combination for a crumbly scone, best alongside a steaming cup of coffee.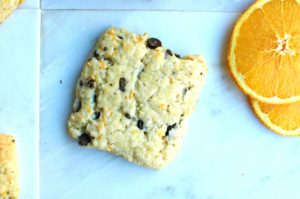 I've been brainstorming new ways to use winter citrus since I had to bid farewell to summer berries. Thankfully, orange is such a versatile flavor and can be used in sweet or savory dishes; these scones are my new favorite way to incorporate that. If you are ever hosting a brunch or will be having weekend visitors, scones are a great treat to bake in advance. They keep well, and they can be enjoyed for breakfast or over an afternoon cup of tea. If you have weekend guests, it's nice to have something prepared in the event that someone wants an afternoon snack but may not want to be rude and go through your pantry. Scones to the rescue!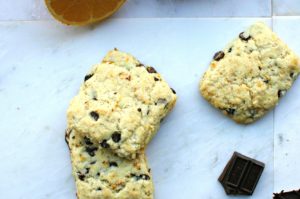 These orange chocolate chip scones are so quick and easy to make and bursting with flavor. I hope you make them this weekend!

Orange Chocolate Chip Scones
Prep time:
Cook time:
Total time:
Ingredients
2½ cups all-purpose flour
½ tsp. salt
½ cup granulated sugar
1 tbsp. baking powder
2 tbsp. orange zest
½ cup butter, chilled, cut into cubes
¾ cup buttermilk
⅔ cup mini chocolate chips*
Instructions
Preheat oven to 350 degrees Fahrenheit.
In a medium bowl, whisk together flour, salt, sugar, baking powder, and orange zest.
Add butter and use a pastry cutter or fork to combine until butter is no larger than the size of small peas.
Add buttermilk and mix until just combined.
Fold in chocolate chips.
Turn dough onto a floured surface. Using a floured rolling pin or your hands, press dough until it is about one inch thick.
You can cut the scones as you desire, triangles, squares, or using a round cookie cutter or the rim of a drinking glass.
Place onto a baking sheet lined with parchment paper.
Bake for 20-25 minutes until the bottoms are golden brown.
Notes
*If you don't have mini chocolate chips, you can use regular chocolate chips and chop them a bit.