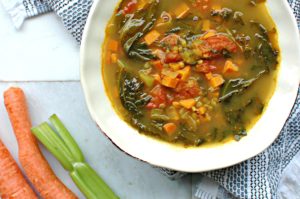 There was a time where it seemed that every soup I made had the same flavors. Sure, I could add in a different vegetable or meat, but they sometimes just tasted a little boring to me. When you cook as much as I do creating your own recipes, it can be easy to stick to the flavors that you gravitate towards the most. There's nothing wrong with that! But sometimes your taste buds just need a little kick in the pants to realize there are a LOT of delicious flavor combinations out there.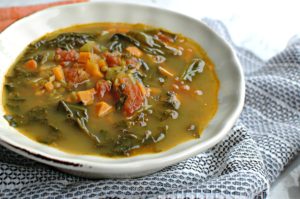 Years ago, I purchased the cookbooks Plenty and Plenty More by Yotam Ottolenghi at the recommendation of a food blogger that I've been following for years. She had showed on social media multiple recipes that she had made that not only looked amazing, but used flavor profiles that I wasn't familiar cooking with. It's important to note that these cookbooks are vegetarian, and since we try to eat meatless at least twice a week I was excited to get some variety in those dishes. These cookbooks did not disappoint and introduced me to flavors such as the ones used in this soup.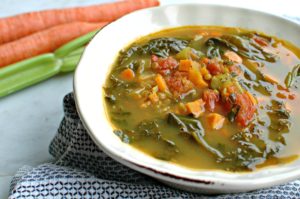 Cumin, cinnamon, coriander, and turmeric come together in such a delicious way in this soup. It's also packed with veggies and a meatless protein source. This soup is so healthy and hearty that you won't even miss the meat!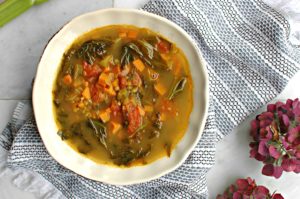 I don't know how many times I can say this soup is full of flavor without sounding redundant, but we are in the middle of soup season and I highly encourage you to make this soup if you're looking forward to mix things up this winter!

Moroccan Lentil Soup
Prep time:
Cook time:
Total time:
Ingredients
2 tbsp. olive oil
2 large carrots, diced
1 stalk celery, diced
1 onion, diced
3 cloves garlic, minced
1 sweet potato, peeled and diced
1½ cup dry lentils
8 cups vegetable broth
½ tbsp. cumin
¼ tsp. ground cinnamon
¼ tsp. ground black pepper
1 tsp. dried turmeric
1½ tsp. dried coriander
1 tsp. salt
15 oz. diced canned tomatoes
1 bunch mustard greens, stems removed, chopped
Instructions
Heat olive oil in a large pot. Add carrot, celery, onion, and garlic and cook until tender.
Add lentils, sweet potato, broth, cumin, cinnamon, pepper, turmeric, coriander, and salt. Bring to a boil, then reduce to a simmer and cook until lentils are tender.
Add tomatoes and bring to a simmer again.
Add mustard greens in batches and cook until wilted.
All to simmer an additional 5-10 minutes, taste and adjust seasonings to your preference. It may require more salt depending on the amount of salt in your vegetable broth.