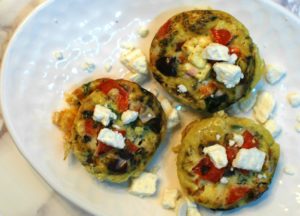 Mini food is just more adorable, isn't it? These frittatas combine some of my favorite things and you should absolutely be serving them this weekend for brunch. Or you can step up your weekday breakfasts, make them this weekend, and freeze them. Your Monday morning is already thanking you.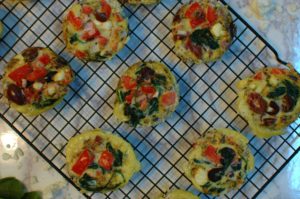 Mini Mediterranean Frittatas
Prep time:
Cook time:
Total time:
Ingredients
8 large eggs
2 roma tomatoes, chopped
½ cup diced red onion
¾ cup kalamata olives, chopped
½ cup crumbled feta cheese, plus extra for topping if desired
4-5 handfuls baby spinach
1 tbsp. olive oil
¾ tsp. salt
¼ tsp. pepper
½ tbsp. oregano
½ tsp. garlic powder
Instructions
Preheat oven to 350 degrees Fahrenheit.
Spray a muffin pan with nonstick cooking spray.
Heat olive oil in a frying pan and add spinach once hot. Cook spinach until wilted and remove from heat.
In a medium bowl, whisk eggs.
Whisk in salt, pepper, oregano, and garlic powder.
Add tomatoes, onion, feta, olives, and spinach.
Pour into muffin pan, filling about ¾ of the way.
Bake for 20-25 minute until eggs are cooked through.
Allow to cool 5-10 minutes in pan before gently removing.
Serve warm or allow to cool completely before freezing.
Notes
*there may be extra frittata mixture. Ensure that you do not fill muffin pan more than ¾ of the way.