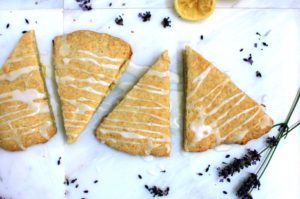 We have gorgeous summers here in the PNW, and I try to take advantage by spending some time outside with the boys every day. Every afternoon, right before dinner, we usually go for a walk. It's the calm before the craziness of dinner, baths, and bedtime for the kids and we all enjoy it. I usually take the same route every time and we walk on this street with dozens of lavender bushes.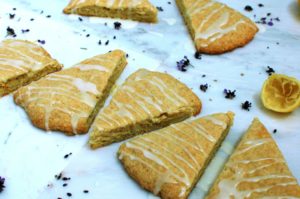 They always smell so good and last week I decided to pick a bunch (p.s. it's a public street, not someone's yard) and make it into something special. Lavender and lemon is such a great combination and these scones are a great way to showcase those flavors.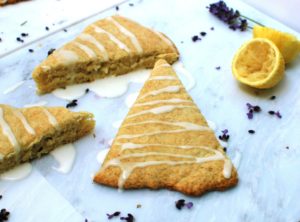 So enjoy these for breakfast, a snack, or your afternoon tea time.

Lavender Lemon Scones
Prep time:
Cook time:
Total time:
Ingredients
2 cups all-purpose flour
8 tbsp. cold butter
½ tsp. salt
¼ tsp. baking soda
1 tsp. baking powder
½ cup sugar
1 egg
¼ cup plain Greek yogurt
1 tbsp. lemon zest
2 tbsp. + 1½ tbsp. lemon juice
1 cup. powder sugar
¼ cup boiling water
3 tbsp. fresh lavender, finely chopped or ground with mortar and pestle
Instructions
Preheat oven to 350 degrees Fahrenheit.
Place finely chopped or ground lavender in a small bowl and cover with boiling water. Steep for 20 minutes.
In a medium bowl, place sugar and lemon zest. Rub zest into sugar using your fingers.
To the same bowl, add flour, salt, baking soda, baking powder, and sugar. Whisk to combine.
Using a cheese grater, grate butter. Add to dry ingredients and combine using your fingers or pastry cutter until mixture is the texture of wet sand.
Strain lavender leaves from liquid. In a small bowl, whisk this liquid together with egg, 2 tbsp. lemon juice, and Greek yogurt.
Add wet ingredients to dry ingredients and mix until just combined.
Using floured hands, pat dough into a circle about 1 inch in height. Using a sharp knife, cut circle into 8 triangles.
Bake for 22-25 minutes until edges are golden brown.
Cut triangles lines again with sharp knife and allow to cool.
Combine 1½ tbsp. lemon juice with powdered sugar to make the glaze. Drizzle over scones and enjoy!