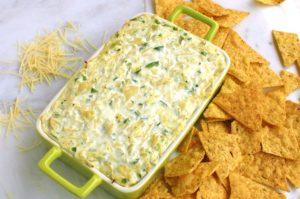 Football season is upon us, which means game day snacks are upon us. I'm not a big fan of watching sports on TV, but I am a big fan of entertaining and putting out a spread of food. This dip is my new favorite thing to put out while entertaining. Spinach and artichoke dip is a classic, but adding jalapeño brings it to a new level.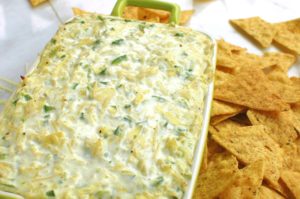 This dip is inspired by one that you can buy at Costco. I am a huge fan of Costco and they can certainly make entertaining easy if you aren't in the mood to cook a bunch of food yourself. When I first tasted this dip, I thought it was such a great idea and immediately planned to get to work in the kitchen to recreate it.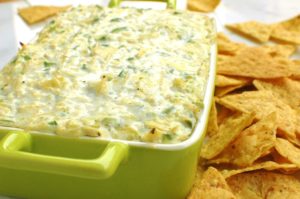 Now you can have this dip even if you don't live near a Costco or don't have a membership! This will be a staple in our house this football season and for years to come. It's creamy and delicious with just a hint of spice. Serve it with tortilla chips, pita chips, crackers, or some fresh vegetables!

Jalepano Artichoke Parmesan Dip
Prep time:
Cook time:
Total time:
Ingredients
1½ cups sour cream
14 oz. canned/jarred artichoke hearts, drained and chopped
⅓ cup mayonnaise
2 jalapeños, seeded and finely diced
1 tsp. garlic powder
1 tsp. onion powder
1 tsp. salt
¼ tsp. ground black pepper
Instructions
Preheat oven to 350 degrees Fahrenheit and spray a small baking dish with nonstick cooking spray (an 8 x 8 dish will work, so will a dish the size of a loaf pan).
In a small bowl, combine all ingredients and mix.
Pour dip into baking dish.
Bake for 15-20 minutes until bubbling and top is starting to turn golden brown.
Serve warm with tortilla chips, pita chips, crackers, or fresh crudités.
Like what you see? Pin it here!