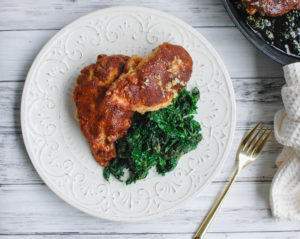 We don't get takeout very often, since it's obviously cheaper and healthier to cook at home, but sometimes we choose to indulge. When we get takeout, we rotate between Chinese, Thai, sushi, and pizza. Finding a favorite Chinese place has proved to be a little difficult, but we found a place that we loved. They had a honey garlic chicken that was so delicious and it was my go-to order. When I read online some reviews that people had gotten cockroaches in their food (!!!), we never ordered from there again. But I fell in love with the crispy honey garlic chicken and knew that I had to create my own version at home.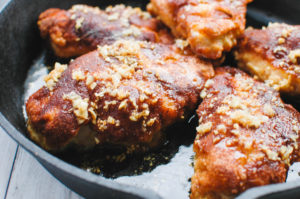 Like a lot of people, I keep chicken breasts in my freezer. And also like a lot of people, I find myself going to the same recipes again and again. Of course, we have our family favorites, but sometimes it's nice to find something different. This honey garlic double crunch chicken does the trick to mix it up and satisfy your urge for some takeout.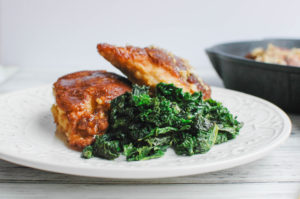 After stuffing ourselves with this for dinner, the kids included, I sliced up the leftovers to serve on big green salads and it was perfect for that! This chicken is so easy, so full of flavor, and as good the second day as it is the first. If you're someone who likes to meal prep, this is the perfect dish for that too to make ahead for lunches.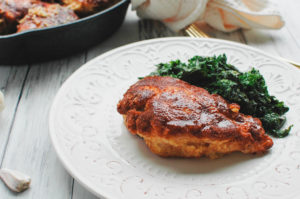 So save this recipe! You need to have this chicken in your life. Say goodbye to boring chicken breasts, make this honey garlic double crunch chicken, and it's a win for everyone.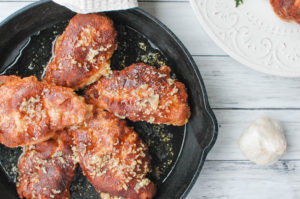 Honey Garlic Double Crunch Chicken
Prep time:
Cook time:
Total time:
Ingredients
6 boneless, skinless chicken breasts
⅓ cup all-purpose flour
½ tsp. ground black pepper + more for seasoning
1 tsp. salt + more for seasoning
1 tsp. garlic powder
3 eggs, beaten
1½ cups plain bread crumbs
2 tbsp. butter
5 garlic cloves, minced
¼ cup honey
Vegetable or canola oil for pan
Instructions
Preheat oven to 350 degrees Fahrenheit.
Pour enough vegetable or canola oil in a large fying pan to cover the bottom. Heat oil over medium heat.
In a shallow bowl, combine flour, pepper, salt, and garlic powder.
Place beaten eggs in a second shallow bowl.
Pour bread crumbs in a third shallow bowl.
Pat chicken breasts dry with a paper towel and season both sides with salt and pepper.
Place each chicken breast in the flour mixutre, then egg mixture, then bread crumbs, ensuring they are coated on both sides. Repeat a second time (this is how you get the double crunch!).
Place chicken in the hot oil, being careful not to crowd the pan. Cook on each side for 4-5 minutes until browned.
Line a large rimmed baking sheet with aluminum foil and spray with nonstick cooking spray. When the chicken breasts are browned, place on the prepared sheet.
When all the chicken breasts are browned, place the baking sheet in the oven and bake for 15-20 minutes until the chicken reaches 165 degrees Fahrenheit. I used fairly thick chicken breasts and needed 20 minutes.
While the chicken is in the oven, melt butter in a large pan. Add garlic and cook until fragrant, but not burned, just a few minutes. Add honey and stir to combine.
Drizzle honey and garlic mixture over chicken.
Enjoy!