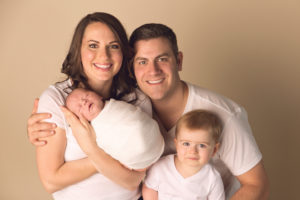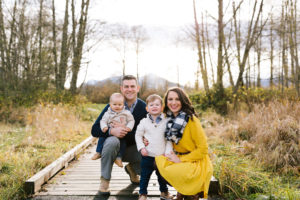 What a difference a year makes! This time last year, we had a one-month-old and an almost two-year-old. Life was good, but it was hectic and exhausting. As any parent knows, those first two months of parenthood are filled with tears, sleepless nights, and finding a new rhythm as a family. They're also filled with newborn snuggles, a baby sleeping on your chest (which is the best feeling ever), and so much love. All in all, it's an emotional, exhausting, wonderful time, and last year as we rang in a new year I was certainly more tired than I am right now. 2017 was a year of growth. I had only been a stay-at-home mom for a few months by the time 2017 started, and I launched this blog this past June. Needless to say, the year has been a busy one.
But when I look back on 2017, all I can see now are the good things. Every year has truly been better than the last. Kevin and I celebrated our 5 year anniversary. We enjoyed a full year of parenting these two boys of ours. We had adventures here in the Pacific Northwest, as well as travels to visit family and attend the weddings of dear friends. Those early weeks of 2017 may have been challenging with two boys two and under as I struggled a bit to find a way to find time for each of them, but as I write this now, those two amazing kids are sleeping upstairs while Kevin and I enjoy takeout Chinese on the couch, our New Years Eve tradition.
Whenever someone asks me how I'm doing, as a mom, as a blogger, as a person, the first thing that I think is that I feel balanced. I'm happy to be a stay-at-home-mom, something that would not have been a dream of mine if you asked me before having kids. I'm happy having this blog as my creative outlet for my passions. I'm happy that I have an amazing husband by my side who supports me in all that I do, and who works very hard at what he does, allowing me to be home with our boys while pursuing my passions. Sometimes I find myself just waiting for the sky to fall because I do feel so blessed to have all that I do. There are days that I cannot believe that this life is mine. There are also days that are not so easy, where I have to remind myself that happiness is a choice. There are days that are very, very long. But complaining about them here, compared to other people's problems, feels silly.
I told a friend of mine a few weeks ago that we been having some long days and nights when the kids and I all had colds and no one was sleeping well. She had told me a few days later that she had also had a long day with her girls but felt bad complaining because it seemed like I was having a rougher day. I told her that she could always let me know when she needed to talk or was having a rough day, and I think we should all make this a goal for 2018: let's not minimize each other's struggles. Everyone is going through something difficult, everyone has something hard in their life. It's not a competition to see who has it harder or who struggles more. Instead of comparing ourselves to each other, let's support each other. Let's build each other up and celebrate each other in the good, and be there with a hug and a glass of wine when the days are hard. I can't tell you how much it's meant to me when a friend brings by a mug of hot coffee when she knows I'm having a rough day. Let's be honest, if you're a parent, you know that we're all just figuring this out as we go and trying to give our kids the best lives that we can. I think we can all be a little kinder to each other, show a little more compassion. Anytime you hear of a tragedy on the internet or social media and look at the response of the public, it's sadly generally negative. We have become quick to rush to judgment instead of support. Maybe this is because of our own insecurities, this idea that "that could have happened to me," but that's no excuse for refusing to show others love and kindness when they need it most. Let's all try to see the best in people this year.
And let's also give ourselves some more grace. Not every day is perfect and Instagram-worthy, and that's ok. You see #reallife across social media when people are having average or below-average days, but the reality is that #reallife also contains the good days. Maybe not every day is worth photographing, but it's the challenging moments of life that get you from one happy snapshot to the next. It's those moments that make you stronger, more resilient, and more appreciative of the good days. And good and bad, all of those days are real life.
2018 is going to be a great year, I'm sure of it. I have big goals for this blog and am brainstorming delicious new content to continue giving to you. I want to take a family vacation somewhere new. I'm looking forward to watching these boys grow and not miss a minute of it because it is already going so fast. This year begins my training for my first ultramarathon since Easton was born. This is the year that I turn 30 and close out my 20's, which has been a decade of growth and change.
Thank you for your support these past six months as I've started to find my place in the world wide web. Happy New Year to you and yours, let's make it a good one.