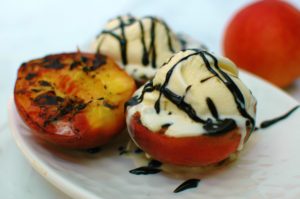 Grilled fruit is a revelation. Summer has the most amazing produce: stone fruits, tomatoes, berries, and so much more. Have you ever tried grilled fruit? Stone fruits and pineapple are especially good on the grill. The sugars caramelize and and add a delicious depth of flavor. Plus the warm fruit serves the perfect base for some ice cream! I think dinners on the grill are easy, so why not throw some fruit on the grill for a few minutes to make an easy dessert too?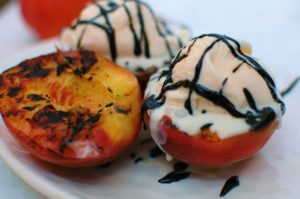 The balsamic glaze is also incredibly easy to whip up on the stove and is such a great compliment to the fruit and ice cream. This recipe calls for peaches, but feel free to use whatever stone fruit you want. Or pineapple! Those fruits hold up well on the grill and get a great flavor. Plus you can get some char marks that make you feel like a real chef! Here's to easy dinners and easy desserts to celebrate summer 🙂

Grilled Peaches with Balsamic Glaze
Prep time:
Cook time:
Total time:
Ingredients
2 ripe peaches
4 scoops vanilla ice cream
¾ cup balsamic vinegar
2 tbsp. granulated sugar
Instructions
Cut peaches in half and remove pits.
In a small saucepan on the stove, combine balsamic vinegar and sugar. Cook on low heat until reduced and it reaches a syrup texture.
Put peaches, cut side down, onto a grill at 450-475 degrees Fahrenheit and grill until charred and slightly tender, about 5 minutes.
Serve each peach half topped with vanilla ice cream and balsamic glaze.