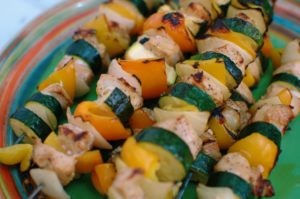 Happy 4th of July! Are you firing up the grill today? I hope you are! And if you don't have plans for what to cook yet, these chicken kebabs are for you. A few hours of marinating and a few minutes of cooking and you have a delicious dinner ready to go. This recipe was my first collaboration with my husband, Kevin, who is the grill master here in Team Dieterich. We have a Big Green Egg and we both love it. I love to eat what he cooks and he loves to grill. Win win!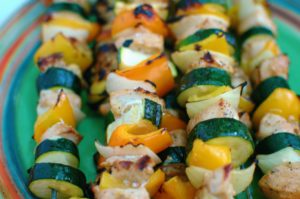 For this recipe, I made the marinade and did all the prep work, and he did the cooking. Everyone enjoyed these super easy and delicious kebabs, especially Lleyton, who kept demanding "more chicken!" You can marinate the chicken for a few hours or overnight, the vegetables only need an hour or two in the marinade. Feel free to use other vegetables if you want! Zucchini has been so delicious at our local farmstand I knew it would be delicious on these kebabs with some crunchy bell pepper. I hope you fire up the grill to make these quick and easy kebabs for dinner! If you have leftovers, throw them over some salad greens for lunch the next day and you're good to go.

Grilled Chicken Teriyaki Kebabs
Prep time:
Cook time:
Total time:
Ingredients
2 chicken breasts, cut into 1 to 1½ inch pieces
1 tbsp. ground fresh ginger
3 cloves garlic, minced
¼ cup sesame oil
¼ cup soy sauce
3 tbsp. rice vinegar
1 tsp. salt
½ tsp. pepper
2 bell peppers, cut into 1 inch to 1½ inch pieces
3 zucchini, sliced into rounds
½ yellow onion, cut into large chunks
Instructions
In a small bowl, whisk together sesame oil, soy sauce, rice vinegar, salt and pepper.
Place cubed chicken into a shallow dish (I used a glass 8 x 8 dish) and cover with marinade. Marinate at least 2 hours or up to overnight.
Add vegetables to marinade with 1-2 hours left of marinating time.
Assemble skewers. No particular order required, just a good balance of chicken and vegetables.
Grill at 475 for 3-4 minutes per side.
Enjoy!
Notes
If using wooden skewers, soak in water prior to assembling kebabs.