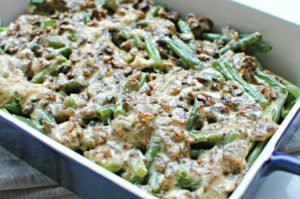 Everyone has the side dishes they look forward to for Thanksgiving and Christmas. For me it's my cornbread sausage dressing on Thanksgiving, and I usually make my twice-baked mashed potatoes for both holidays. On Thanksgiving I typically prepare these roasted Brussels sprouts, or maybe another roasted green vegetable that doesn't take up a lot of prep time. Which is why the classic green bean casserole makes an appearance on our table on Christmas Day instead of Thanksgiving Day.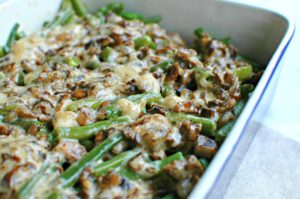 On Christmas Eve we go to mass and then have a German feast: bratwurst, spaetzle, sauerkraut, and red cabbage. Christmas Day is our big dinner! I typically make a ham, these green beans, the twice-baked mashed potatoes, and maybe another side dish, like a root vegetable gratin. This year we will be spending Christmas Day at a friends' house and I'm responsible for the mashed potatoes and dessert! Of course I'll be making my flourless chocolate peppermint cake.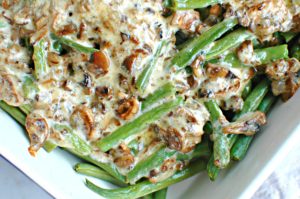 Last year Easton was just three weeks old on Christmas. While having a new baby for the holidays was very fun and special, it was also exhausting. This year I know both boys will have a great time on Christmas. They already love the Christmas tree (although Easton probably likes the lights and ornaments a little TOO much), and I'm very exciting for a relaxing holiday.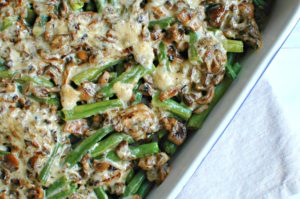 A lot of people love the green bean casserole with canned green beans, Campbell's cream of mushroom soup, and French's onions. I actually enjoy this side dish too! But if you're looking to take things up a notch in flavor while lowering the sodium content, this recipe is for you.

Green Beans with Mushroom Parmesan Sauce
Prep time:
Cook time:
Total time:
Ingredients
3 lbs. green beans
2 tbsp. butter
8 oz. mushrooms, chopped
2 tbsp. flour
1 cup heavy cream
¾ cup milk
1 tsp. salt
½ tsp. garlic powder
¼ tsp. freshly ground black pepper
½ cup grated parmesan cheese
Instructions
Preheat oven to 350 degrees Fahrenheit.
Rinse and drain green beans. Trim ends and then cut green beans into two inch pieces.
Bring a large pot of water to a boil. Boil green beans for two minutes and then drain.
In a large pan, melt butter. Add mushrooms and cook until tender.
Stir in flour.
Add heavy cream, milk, salt, and pepper and whisk to combine. Reduce to a simmer then stir in parmesan cheese.
Place green beans in a baking dish and spread mushroom sauce on top of them.
Bake for 30-35 minutes.