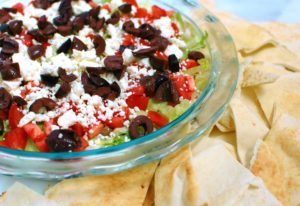 There's a pretty popular layer dip of another nationality. You know the one I'm talking about. And while it's delicious, this appetizer takes layer dips to a new level. I love Mediterranean flavors: herbs, lemon, garlic, olive oil, yogurt, and hummus are all staples in my kitchen. Why not combine those flavors to make a delicious little snack?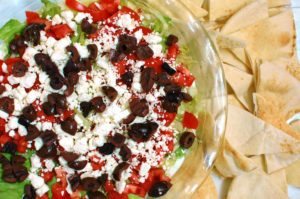 Serve this with pita bread, pita chips, or fresh veggies for a true crowd-pleaser. Or eat it with a spoon. I'm not going to judge you. I think as far as dips go, this can be considered on the healthier side because it isn't full of sour cream and cheese (although I love those too…check out my caramelized onion dip). I have no doubt that this will be a hit at your next party!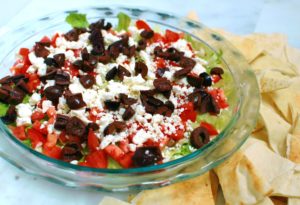 Greek 6 Layer Dip
Ingredients
1½ cups hummus (homemade or store-bought)
1 cup plain Greek yogurt
½ cucumber, peeled and seeded
2 cloves garlic
1 tbsp. lemon juice
½ tsp. salt
1 tbsp. olive oil
1 cup chopped tomatoes
1 cup shredded iceberg lettuce
½ cup crumbled feta cheese
½ cup kalamata olives, chopped or sliced
Instructions
For the tzatziki sauce: in a food processor, combine yogurt, cucumber, garlic, lemon juice, salt, and olive oil and process until smooth.
Using your dish of choice, spread hummus in an even layer in the bottom of the dish. I used a 9 inch round glass pie dish, but you can use whatever suits you.
Top hummus layer with tzatziki sauce layer.
Top this with shredded lettuce, then chopped tomatoes, feta cheese, and olives on the top.
Serve with pita bread, pita chips, and fresh veggies!