Let me tell you something.
You need fancy grilled cheese in your life. I loved a cheddar grilled cheese sandwich with tomato soup as much as the next person but this fancy grilled cheese will make your dreams come true. The best part? It doesn't even take that much longer than regular grilled cheese! And there's apple in it, which basically makes it a health food.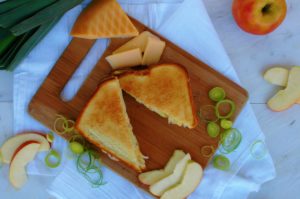 Did I go too far? I'm not sorry about it, and I hope we can still be friends. The recipe is below, but it's truly as easy as can be. So make this for lunch, or an easy dinner, or for a Saturday meal at 11:30 am when you were out too late the night before and don't even have the energy to change out of yoga pants for brunch.

Gouda Leek and Apple Grilled Cheese
Prep time:
Cook time:
Total time:
Ingredients
1 apple, thinly sliced (I used Pink Lady, but I think Cripps Pink or Honeycrisp would also be delicious)
1 leek, white and light green parts only
4 slices Gouda (your slices will need to be large enough to cover a slice of bread)
4 slices of bread
Fresh-ground pepper
Butter
Instructions
Preheat your oven to 400 degrees Fahrenheit and line a baking pan with foil.
Put a thin layer of butter on each slice of bread and lay it, butter side down, on the pan.
Place Gouda slice on one piece of bread for each sandwich.
Thinly slice the white and light green parts from the leek and put on the other slice of bread for each sandwich.
Top sliced leeks with the other slice of Gouda for each sandwich.
Bake for 8-10 minutes until cheese is melted and bread is toasty. During the last 2 minutes of cooking, place the apples on the slice of bread that does not have the leeks.
Remove from oven and top with fresh-ground pepper before putting sandwiches together.
Eat your heart out!