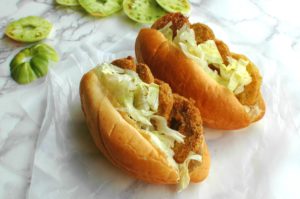 Let's talk about po' boys. First off, they are delicious! A giant bun stuffed with some type of meat, usually fried, along with some lettuce and tomato and drizzled with a delicious sauce. Who can resist that? They hail from Louisiana and are traditionally made with shrimp. But Kevin is allergic to shellfish, and I decided to give another southern twist to an already southern dish: fried green tomatoes.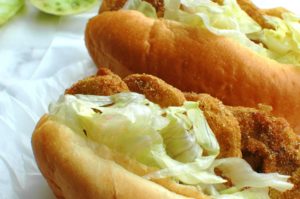 I don't know who had the idea at first to fry green tomatoes. Maybe they thought that most things are better deep fried and dipped in sauce (true), or maybe they had too many tomatoes that didn't ripen in their garden. The first time I made fried green tomatoes was the first year I planted tomatoes in our garden. Sadly I learned that our backyard gets too much shade for tomatoes and I was left with a lot of green ones. While my dreams of making salsa, canned tomatoes, and marinara sauce from tomatoes from my garden may have died, I did discover how delicious fried green tomatoes were.
If you want to do more with your green tomatoes than fry them and dip them in ranch dressing, you can stuff them into a sandwich with some lettuce and drizzle them with the most amazing Old Bay aioli that you'll make your new go-to dipping sauce.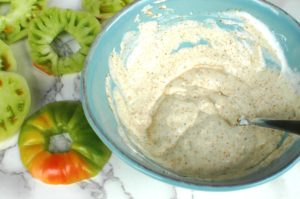 These come together so quickly that they're sure to be a big win all around, whether you are cooking them, eating them, or both.

Fried Green Tomato Po' Boys with Old Bay Aioli
Prep time:
Cook time:
Total time:
Ingredients
4 large green tomatoes
2 eggs
2 tbsp. milk
⅓ cup cornmeal
⅓ cup all-purpose flour
1 tsp. salt
½ tsp. ground black pepper
½ tsp. garlic powder
½ tsp. onion powder
Neutral oil, for frying
4 buns, for serving
For the aioli:
¼ cup plain Greek yogurt
¼ cup mayonnaise
1½ tsp. Old Bay seasoning
½. tsp. salt
Instructions
Wash and slice green tomatoes and set on a pat dry with a paper towel.
In a small bowl, beat eggs and milk.
In a shallow bowl, combine cornmeal, flour, 1 tsp. salt, ground black pepper, garlic powder, and onion powder.
Pour enough oil in a frying pan to cover the bottom and heat over medium heat.
Dip the tomatoes first in the egg mixture and coat on both sides, then dip in the flour mixture and coat on both sides.
Place tomatoes carefully in the hot pan and cook 2-3 minutes per side until they are golden brown, flipping carefully with tongs. Once brown on both sides, remove and place on a plate lined with a few layers of paper towels.
In a small bowl, mix together Greek yogurt, mayonnaise, Old Bay seasoning, and ½ tsp. salt.
Spread aioli on buns and add fried tomatoes. Other sandwich fixings that go well with this are shredded lettuce, cucumber, pickles, or red onions!