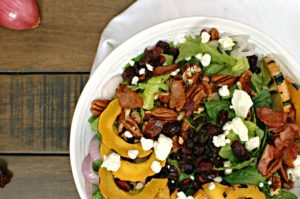 Many people probably think of salads as a traditionally summer dish. I will say that I'm a big fan of salads in the summer. Throwing together fresh summer produce and topping it all with some grilled protein is a win in my book. But fall also has one of my favorite produce items: squash. I love to roast squash, put it in soups and stews, or puree it for my kids to mix into their oatmeal and yogurt. It's packed with vitamins, can made in sweet or savory dishes. Pumpkin pie is one of my absolute favorite deserts and I look forward to it every Thanksgiving.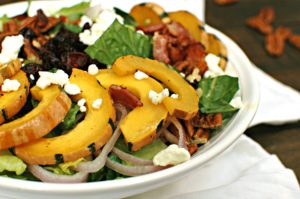 Since delicate squash can be cooked with it's skins on, it's perfect for this salad. The pieces of squash hold their shape and add a delicious flavor and texture to the salad. I'm also a huge fan of adding something to add crunch to my salads, toasted pecans in this case, as well as some dried fruit. Cranberries are an appropriate choice for this time of year, but since you can buy dried cranberries year round they are usually a staple in my pantry for salad toppings or a healthy snack when I'm looking for something sweet and tart. Just check for added sugar if you're trying to be healthy!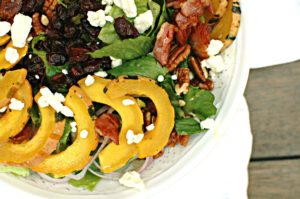 Also, cheese on salad is always a yes. Crumbled gorgonzola in this case, but cheese on a salad just brings it to another level. This salad is hearty enough for dinner, is perfect to make ahead for weekday lunches, and is fancy enough to serve alongside your Thanksgiving dinner. Enjoy!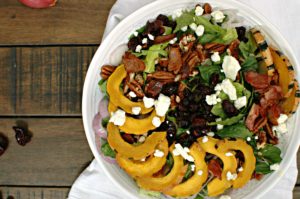 Fall Harvest Salad
Prep time:
Cook time:
Total time:
Ingredients
1 head romaine lettuce, chopped
1 delicata squash, halved, seeds removed, and sliced
5 tbsp. olive oil, divided
2 tsp. salt, divided
½ tsp. ground black pepper, divided
2 shallots, thinly sliced
8 slices bacon, cooked and crumbled
4 oz. gorgonzola cheese
½ cup dried cranberries
½ cup pecans
2 tbsp. apple cider vinegar
¼ tsp. cinnamon
1 tbsp. pure maple syrup
1 tbsp. lemon juice
Instructions
Preheat oven to 350 degrees Fahrenheit.
Spread pecans on a rimmed baking sheet and cook until toasted, about 8-10 minutes.
Spread delicate squash on a second rimmed baking sheet and toss with 2 tbsp. olive oil, 1 tsp. salt, and ¼ tsp. ground black pepper. Bake until tender and golden brown, 20-25 minutes. Let cool.
In a small bowl, whisk together 2 tbsp. olive oil, apple cider vinegar, 1 tsp. salt, ¼ tsp. ground black pepper, cinnamon, maple syrup, and lemon juice.
In a large salad bowl, combine lettuce, shallots, bacon, gorgonzola cheese, squash, cranberries, and pecans.
Toss salad with dressing and serve immediately. If you're making this salad in advance, keep the dressing off the salad until just before serving.