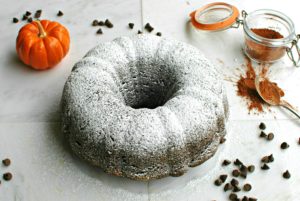 I'm a big fan of bundt cakes. A bundt cake pan can make an endless types of cakes. Whether you make coffee cakes, cakes for dessert, monkey bread, or pound cake, a bundt cake pan is sure to be a workhouse in the kitchen of even an amateur baker. My tip with bundt cake pans is to grease AND flour them. There's nothing worse than a bundt cake that breaks when you try to remove it. At least nothing worse in the cake-baking world.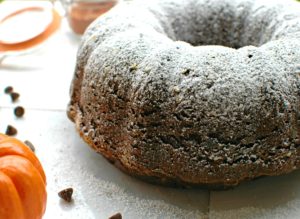 The pumpkin taste in this is very subtle. I know there are people out there who don't like pumpkin pie (something that I do not understand), but even though there is a whole can of pumpkin puree in this cake, you can only taste a hint of it. The pumpkin keeps the cake moist and rich without adding butter, and the cinnamon and nutmeg in the batter give the "pumpkin spice" flavor that everyone craves this time of year.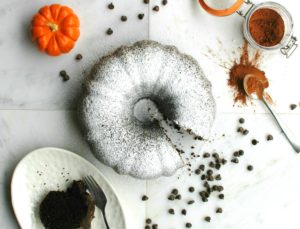 Even though there isn't any butter in this cake, it's certainly not a dessert that I would consider light. With two cups of sugar and a cup of oil you can feel a bit indulgent eating it. BUT when it comes to the holidays, I say go for it.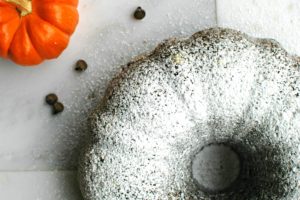 My friend and fellow blogger, Erica, wrote a blog post about bundt cakes. She wrote about how when she has overnight guests, she always has a bundt cake waiting. It's a simple and delicious option for guests who may feel uncomfortable rummaging through your pantry or refrigerator if they need a snack, and keeping one out with plates beside it make guests feel like they can have a slice anytime. What a great idea! Maybe you don't want to keep cakes around every single day, but when you have guests that you want to feel welcome (and like they can have a treat) it's a sweet idea to have a cute little bundt cake prepared.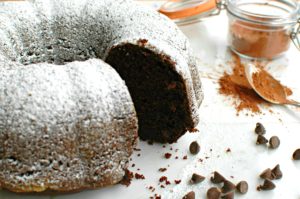 This cake is also perfect if you're looking for an alternative to pie for Thanksgiving dinner. While I LOVE pie, sometimes there's pressure to have many different types: apple, pumpkin, pecan, and maybe a chocolate chess. This cake combines pumpkin and chocolate, and also will keep a little better than a pie would. Don't worry, if you're someone who enjoys a slice of pie for breakfast the day after Thanksgiving, you can definitely have this cake for breakfast too.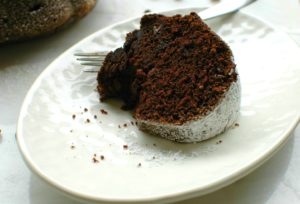 Double Chocolate Pumpkin Bundt Cake
Prep time:
Cook time:
Total time:
Ingredients
1 cup vegetable or canola oil
2 cups granulated sugar
3 eggs
1 tsp. vanilla
1 15 oz. can 100% pumpkin puree (not pumpkin pie filling)
2¾ cups all-purpose flour
2 tsp. baking soda
2 tsp. cinnamon
½ tsp. nutmeg
½ tsp. salt
½ cup unsweetened cocoa powder
1½ cups chocolate chips
Instructions
Preheat oen to 350 degrees Fahrenheit. Grease and flour a bundt pan.
In a stand mixer or using a hand mixer, mix oil and sugar until smooth, about 5-8 minutes. Add eggs one at a time, mixing thoroughly after each addition.
Add vanilla and pumpkin and mix again.
In a medium bowl, whisk together flour, baking soda, cinnamon, nutmeg, salt, and cocoa powder.
Add dry ingredients gradually to wet ingredients and mix until just combined.
Fold in chocolate chips.
Pour batter into bundt pan and bake for 55-65 minutes until a toothpick inserted into the center comes out clean
Like what you see? Pin it here!