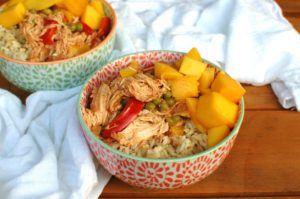 I remember the first time I tried curry. I saw this recipe by one of my favorite bloggers and was intrigued, so I picked up some curry paste and coconut milk on my next grocery shopping trip. Now curry paste and coconut milk are staples in our house. I don't make curry too spicy so Lleyton will still eat it, but the flavor from the curry, coconut milk, fresh ginger, and garlic is amazing.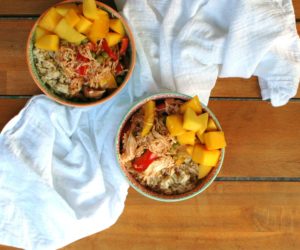 Curry is so easy! And you all know how excited I get about easy, delicious dinners. This is the first crock pot recipe that I'm posting on the blog, but trust me when I say that I use my Crock Pot all the time. It is hands down one of my favorite appliances. It's a real workhorse for me in the fall and winter when I'm making a batch of soup, stew, or chili once a week, but I love using it in the summer when it's too hot to stand over the stove or turn on the oven.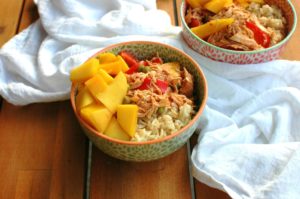 Also, Crock Pot has amazing customer service. About 6 months ago, the Crock Pot that I had for years just stopped working. I knew it wasn't covered under warranty, but I contacted the company to see if they could help me troubleshoot the problem. They told me they would send me a brand new Crock Pot, free of charge, as long as I sent them my defective Crock Pot! They even provided the box and shipping label for my broken Crock Pot. How amazing is that? I'm a customer for life.
I hope you make and enjoy this super easy dinner as much as we did! Serve it over rice, noodles, or enjoy it by itself!

Crockpot Mango Chicken Curry
Prep time:
Cook time:
Total time:
Ingredients
4 chicken breasts
2 cloves garlic, minced
2 inch knob fresh ginger, grated or finely minced
1 small yellow onion, chopped
1 15 oz. can full-fat coconut milk
1 15 oz. can tomato sauce
1 tsp. salt
¼ tsp. black pepper
1-2 tbsp. green curry paste*
1 red bell pepper, sliced
1 yellow bell pepper, sliced
1 cup frozen green peas
2 large ripe mangos, cubed
green onion for topping, optional
cilantro for topping, optional
Instructions
Place chicken breasts at the bottom of a crock pot. Top with minced garlic, ginger, curry paste, onion, coconut milk, tomato sauce, salt, and pepper. Stir to combine. Cook on low for 8 hours or high for 4 hours.
With 30 minutes left of the cooking time, shred chicken. Add red and yellow bell peppers and peas. Cook for remainder of the time.
Serve topped with fresh mango.
Curry is great by itself, but can also be enjoyed over rice or noodles. Optional toppings include fresh cilantro and/or sliced green onion
Notes
I don't like food that's too spicy, so I stick to 1 tbsp. of curry paste. If you like a lot of heat, go with two!
Like what you see? Pin it here!