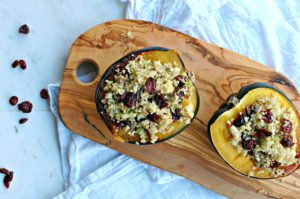 Sometimes it can be a little challenging to find tasty meatless dishes. Whether you are trying to cook for someone who is vegetarian or vegan, you follow those dietary requirements yourself, or you're just looking for a good Meatless Monday dish, couscous stuffed acorn squash is the perfect dish for you! I've mentioned on the blog before that we try to eat meatless at least twice a week, and this is the perfect dish to incorporate into our meal plans.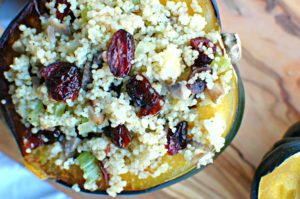 Check out a close-up of this acorn squash. It's stuffed with couscous, mushrooms, dried cranberries, celery, and onion with flavors that are reminiscent of Thanksgiving. It's the perfect dish for this time of year when squash is in abundance at every grocery store. Our boys even gobbled this up, I just scooped everything out and put it in bowls for them and they gobbled it up!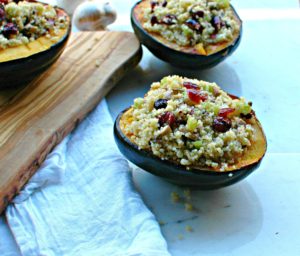 I know for a lot of us across the country it feels like winter is never going to end, but summer produce will be here before we know it. Snatch up a few acorn squash while they're still available and enjoy this dish for your next meatless meal!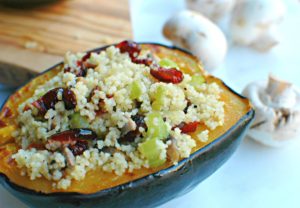 Couscous Stuffed Acorn Squash
Cuisine:
Vegetarian/Vegan
Ingredients
3 acorn squash, halved, seeds removed
1 cup dry couscous
1½ cups water
4 tbsp. olive oil
2 stalks celery, diced
½ yellow onion, diced
1½ cups chopped mushrooms
½ cup dried cranberries
¾ tsp. salt
¾ tsp. poultry seasoning
¼ tsp. ground black pepper
Instructions
Preheat oven to 375 degrees Fahrenheit. Brush the cut sides of the acorn squash halves with 2 tbsp. of the olive oil. Place cut-side down onto a rimmed baking sheet lined with foil and bake for 45 minutes.
In a medium saucepan, bring water to a boil. Add couscous and stir occasionally until water is almost gone. Turn off the heat and cover, allowing couscous to absorb remaining water.
In a large pan, heat remaining 2 tbsp. of olive oil. Place celery, onion, and mushrooms in the pan and cook until tender. Add couscous, cranberries, salt, poultry seasoning, and pepper and stir to combine.
Flip acorn squash over and divide couscous filling between them. Return to oven for 10-15 more minutes.
If you're not trying to keep this dish vegan, it is excellent topped with Parmesan cheese! Enjoy!