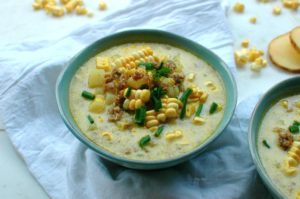 A few weeks ago, it was in the 80's every afternoon here in Washington. I was out of town for a weekend, came home, and suddenly it was fall! We had to turn the heat on, I was dusting off my rain boots, and I knew it was time to recipe test some soups for all of you. September is a bit of a sweet spot during the year where the weather is cool enough for soup but the last of summer's sweet corn is still available.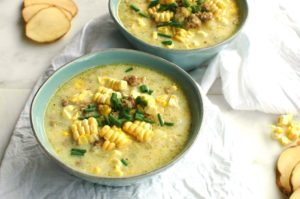 Now that the weather has cooled off, we'll be eating soups and stews at least once a week. They're easy for me to whip up during the boys' afternoon naps or throw into the crock pot in the morning to have a warm cozy meal in the evening. Paired with a salad or some biscuits, you really can't go wrong!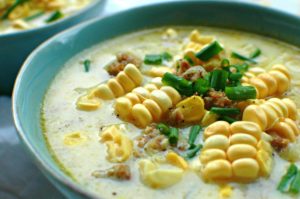 So go ahead, make a double batch to enjoy some now and freeze some for later. But I won't tell if that second batch never makes it to the freezer. Plus, soups are an easy way to incorporate some extra vegetables. I'm a fan of tossing in a few handfuls of spinach, kale, Swiss chard, or mustard greens before serving. Once I have a few pumpkins pureed, I'll add a cup or so to soups or chili's for extra richness. And obviously you can slice and dice endless other options such as carrot, sweet potato, or squash to add. All you need is a flavorful broth to bring it all together!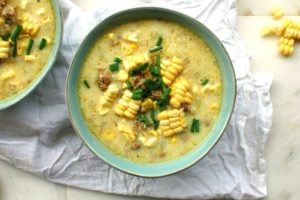 So let's kick off soup season with this chowder! Stay tuned for plenty of healthy and delicious soup recipes in the coming months.

Potato, Corn, and Sausage Chowder
Prep time:
Cook time:
Total time:
Ingredients
1 lb. pork sausage, casings removed
3 cloves garlic, minced
1 small yellow onion, finely diced
3 ears corn, kernels removed
5 cups diced russet potatoes (about 3 potatoes)
4 cups milk*
3 cups chicken broth*
1 tsp. salt
¼ tsp. ground black pepper
½ tsp. ground thyme
Instructions
In a large pot, brown sausage, breaking into small pieces as it cooks.
Once browned, add garlic and onion and cook until onions are translucent.
Add corn and potatoes to the pot and stir to combine.
Add milk, chicken broth, salt, black pepper, and thyme. Bring to a low boil and then reduce to a simmer, cooking until the potatoes are tender.
Taste and add more salt and pepper as desired.
Serve topped with fresh chives or shredded cheddar cheese, if desired.
Notes
*I used whole milk
*I used homemade chicken broth. Depending on the type of chicken broth you use and it's salt content, you may need to add more salt. The 1 tsp. of salt in the recipe is a good place to start, but feel free to add more as needed.