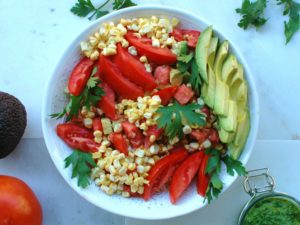 Sometimes the best dishes are the most simple, especially in the summer when you can get the absolute best, juiciest tomatoes and sweetest corn. I shop at a local farmstand once a week, and every time I go I scoop up tomatoes and corn in addition to lots of other fresh produce. I can't turn down a juicy summer tomato! Put in salads, sliced on top of avocado toast, or as the topping of a burger off the grill, I always find a way to use up tomatoes, no matter how many I buy.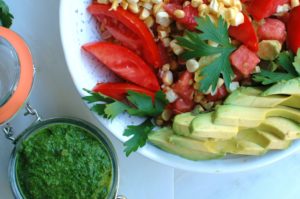 And since I go through tomato withdrawal in the fall and winter, I'm sure to can plenty of tomatoes so we can enjoy them in recipes all year long. This recipe is one of the best ways I can think of to showcase fresh summer tomatoes. Since the ingredients are so simple, you're going to want to make this salad NOW before  leaves start to fall and you dust off your booties and flannel from last year. I love fall as much as the next person but I plan to enjoy this salad while I still can!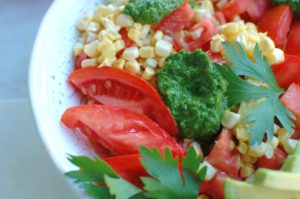 Chimichurri may seem like a strange topping for a salad, but to me there couldn't be a more perfect combination. I love topping sliced tomatoes with balsamic vinegar and olive oil too, but the fresh herbs in my garden were calling me and I'm so glad I turned them into chimichurri because it's the perfect match for this salad!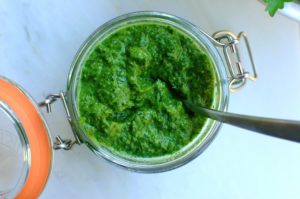 This salad tastes like summer. Since it's already September run to your closest farmstand or farmer's market to get the freshest corn and tomatoes you can find to make this recipe! We had this salad alongside some simple grilled chicken legs and

Corn and Tomato Salad with Chimichurri
Ingredients
2 large tomatoes, diced or cut into wedges
3 ears fresh corn, kernels removed
2 ripe avocados, sliced
1 bunch cilantro
1 bunch parsley
2 cloves garlic
Juice of 1 lemon
3 tbsp. olive oil + more as needed
½ tsp. salt + more to taste
¼ tsp. fresh ground black pepper + more to taste
Instructions
In a food processor, combine cilantro, parsley, garlic, lemon juice, olive oil, salt, and pepper. Blend and add more olive oil as needed until desired texture is reached. Taste and add salt and pepper as needed.
Dice tomatoes or cut into wedges. Or do some of both depending on what you're looking for! Add to a medium bowl with corn and combine.
Add avocado and gently toss to combine.
Serve topped with chimichurri sauce. Enjoy immediately!