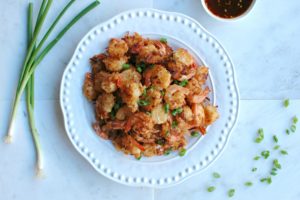 I love shrimp and shellfish in general, with coconut shrimp topping the list of favorites. But since Kevin is allergic to it, it's become an occasional treat for me. Living in the Pacific Northwest we have an abundance of shrimp, crab, scallops, and all kinds of seafood. I remember the first time that I went to Pike Place Market, I was amazed by the sea scallops for sale that were the size of a fist.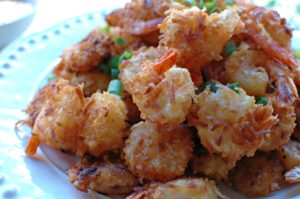 For those of you who haven't been to Seattle, Pike Place Market is like the ultimate farmer's market. You can buy produce and all kinds of local goods, but you can also enjoy gorgeous views of the water and Mt. Rainier, eat some amazing food, listen to the talented street musicians, and spend hours wandering the aisles and peeking into each little shop. Craving a gyro? They have the best. Looking for an Asian steamed pork bun? They have that too (order the pork hom bow when you go, it's my favorite!). Craft mac and cheese from Beecher's? You bet. The original Starbuck's? Yep. Looking for something sweet? Look no further than Shug's Soda Fountain. You can eat your way through Pike Market, from the best hot cinnamon doughnuts to clam chowder to ginger beer and everything in between.  I never get tired of visiting and exploring the market. Pike Place Market is my absolute favorite spot in Seattle, and the fact that Kevin proposed there makes it even more special to me.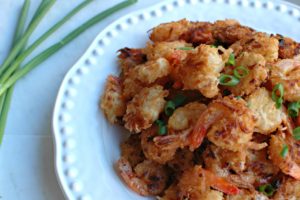 And of course, you can order the freshest shrimp or crab cocktail from the fish stands, or oyster shooters if you're feeling adventurous. As I'm browsing the produce, seafood, and meat in the market, I'll inevitably pick up a few things to take home, maybe even some shrimp to make this coconut shrimp recipe.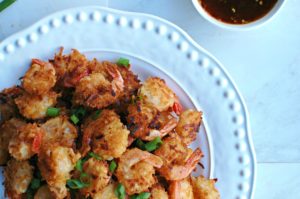 Whoever created coconut shrimp is a genius. The sweet, savory, and crunchy characteristics of the dish makes me want to eat an entire plate like this, and dipping the juicy shrimp in homemade sweet chili sauce makes them even more irresistible. And since Kevin is allergic to shrimp, I was "forced" to eat all of this and didn't mind one bit.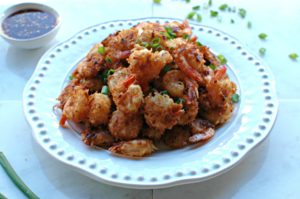 This shrimp is great as dinner or lunch with a salad, rice, or steamed edamame on the side. You can also serve it just like this with the chili sauce on the side for an amazing appetizer. If you're having party for New Years, I can't think of a more crowd-pleasing appetizer. There certainly won't be any leftovers!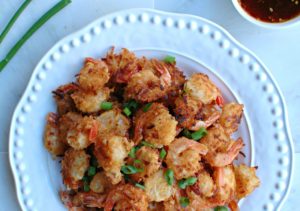 Coconut Shrimp with Sweet Chili Sauce
Prep time:
Cook time:
Total time:
Serves:
3-4 entree or 6-8 appetizer servings
Ingredients
1 lb. shrimp, pre-cooked, tail-on
2 eggs, lightly beaten
½ cup all-purpose flour
1 tsp. salt
½ tsp. ground black pepper
½ cup panko bread crumbs
1 cup sweetened flaked coconut
Vegetable or canola oil for pan
1½ tbsp. red chili paste (sambal oelek)
4 tbsp. honey
1 tbsp. rice vinegar
1 tbsp. soy sauce
Instructions
Pat shrimp dry with a paper towel.
Get out three shallow bowls. In one, beat the eggs. In a second, mix together flour, salt, and pepper. In a third. Mix together bread crumbs and coconut.
Heat oil over medium heat in a large frying pan.
Working in batches, dip shrimp in flour, then egg, then bread crumb/coconut mixture.
Place shrimp in hot oil, being careful not to crowd the pan.
Flip shrimp using tongs when golden brown on one side.
Once cooked, place on a plate lined with paper towels.
For the sauce, mix together red chili paste, honey, rice vinegar, and soy sauce in a small bowl.
Serve immediately.