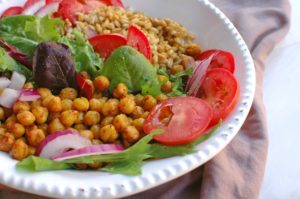 Have you ever had a shawarma? It's traditional some type of meat roasted over a spit, then stuffed into a pita with vegetables and tzatziki sauce, very similar to a gyro. The flavor of the meat is incredibly delicious, but I promise you that with this shawarma bowl you won't even miss the meat! I've written on the blog before about how we try to eat meatless at least twice a week. It's a great way to cut grocery store costs, pack in more vegetables, and make sure we're eating enough whole grains and other sources of protein, such as beans.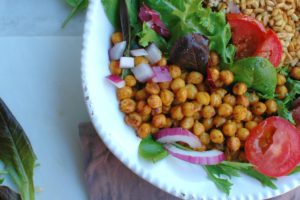 These bowls are vegan, and if you are gluten-free you can substitute the farro for another grain. I love farro in this since it has a chewy texture, so I highly recommend substituting a grain that will give you a similar texture if you are gluten-free, such as barley. If you're looking for quick-cooking versions of these grains to speed up meal prep, I love the 1 minute bags of farro and barley at Trader Joe's.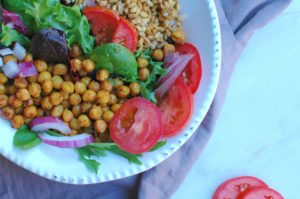 The seasoning on the chickpeas and in the rice is mind-blowing. I promise you'll want to put this seasoning blend on everything! Try rubbing it on chicken and grilling it for a quick dinner or throwing on salads for easy weekday lunches. I love this seasoning blend because it's different from what I usual use. A lot of probably season meat or vegetables with salt, pepper, garlic powder, and maybe onion powder and another spice. This blend will be a flavor explosion! Feel free to make a double batch of it and save it for another use.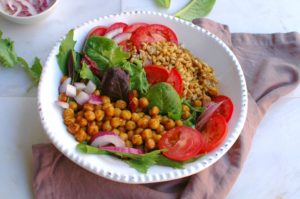 Chickpea Farro Shawarma Bowl
Prep time:
Cook time:
Total time:
Ingredients
1 can chickpeas, rinsed, drained, and patted dry
4 tbsp. olive oil, divided
1 tsp. salt, divided
½ tsp. cinnamon
¼ tsp. cardamom
½ tsp. coriander
1 tsp. turmeric
½ tsp. dried ginger
1 tsp. paprika
1 tbsp. cumin
¼ tsp. ground black pepper
pinch of cayenne pepper
2 cups cooked farro
2 cups mixed salad greens
2 tomatoes, sliced or chopped
¼ cup red onion, thinly sliced or chopped
3 tbsp. red wine vinegar
Instructions
Preheat oven to 400 degrees Fahrenheit.
Spread chickpeas onto a rimmed baking sheet lined with foil. Drizzle with 1 tbsp. olive oil and sprinkle with ½ tsp. salt. Toss to coat. Bake for 20-30 minutes until golden brown.
In a small bowl, combine cinnamon, cardamom, coriander, turmeric, ginger, paprika, cumin, black pepper, and cayenne. Sprinkle half of the mixture onto the chickpeas and toss to coat. Mix the other half of the spice mixture with the farro, along with the remaining ½ tsp. salt.
Divide lettuce, tomato, and red onion between two bowls.
Top with chickpeas and farro.
In a small bowl, whisk together 3 tbsp. olive oil and 3 tbsp. red wine vinegar. Drizzle over bowls.
Enjoy!