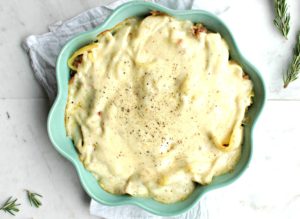 There are two types of people in the world: people who like pasta and people who don't like pasta. I've been living my life with the other people who like pasta. Pasta is Lleyton's favorite food. And I don't mean macaroni and cheese, because he actually only eats that when it's made from scratch. I mean pasta with marinara sauce, ideally with meatballs. This recipe is our absolute favorite and I just made it the other night for his third birthday (cue tears because my baby is three). But this recipe takes what you know about pasta and turns it upside down. Sure, you've probably seen shells stuffed with spinach and ricotta, topped with marinara sauce, and things that keep them very classically "Italian." But these are stuffed with ham and chicken and covered in a Swiss cheese sauce. Yes, I made you chicken cordon bleu stuffed shells.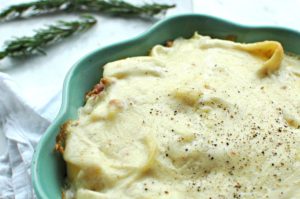 I will admit, Swiss cheese is not my favorite cheese until it's melted. When it comes to sandwiches, give me cheddar or provolone or even gouda if I'm feeling fancy. But once Swiss cheese is melted down, especially into a crazy creamy sauce that almost reminds you of fondue, I could drink it by itself!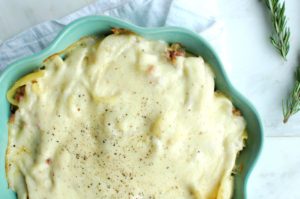 Kevin, however, loves Swiss cheese in all its forms. Plus pasta stuffed with double meat? He was in heaven with this dish. It's so cozy, so comforting, so delicious. It might make you forget that chicken cordon bleu typically doesn't contain pasta at all.

Chicken Cordon Bleu Stuffed Shells
Prep time:
Cook time:
Total time:
Ingredients
12 oz. large shell pasta
3 tbsp. butter
2 tbsp. flour
2 cups milk
2 cups shredded Swiss cheese
1 tsp. salt
¼ tsp. fresh ground black pepper
1 cup cooked, diced ham
1 cup cooked, shredded chicken
Instructions
Preheat oven to 350 degrees Fahrenheit.
Bring a large pot of salted water to a boil and cook pasta according to package directions. Drain and set aside.
In a large skillet or pot, melt butter. Whisk in flour.
Add milk and whisk until smooth. Reduce to a simmer. Stir in one cup of the Swiss cheese. Add salt and pepper and whisk until smooth. Once the cheese is melted into the sauce it should only cook for another minute or two, otherwise the sauce will become too thick.
In a medium bowl, mix together ham, chicken, and the remaining one cup of Swiss cheese.
Spray a baking dish with non-stick cooking spray. Spread about ½ cup of the sauce on the bottom of the dish.
Stuff the shells with the ham, chicken, and cheese mixture and place in the dish.
After all the shells are filled and in the dish, pour remaining sauce over the shells.
Bake for 25-30 minutes until bubbling