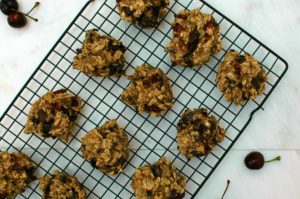 I'm a big fan of cookies for breakfast. We're all busy in the mornings, but we also all know that the last thing we should be doing is skipping breakfast. If we do that, we're starving by 10am and then hit the vending machine, or the drive-thru, or eat something else that's only going to lead an intense crash or leave us hungry again an hour later. Now, I'm all for indulging, and sometimes only fast food French fries will do, but I think you'll feel a lot better if you eat something more like this.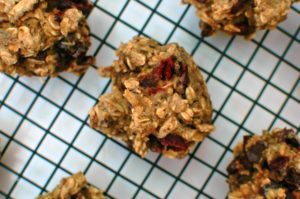 In fact, when I've been in the newborn haze after both my sons were born, I frequently ate these lactation cookies for breakfast. Or a midnight snack. Or anytime, really. I guarded those cookies though, and no one but mama was allowed to eat them. But these cookies are for everyone, if you can bring yourself to share.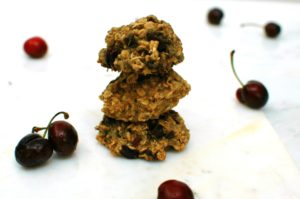 Full of oats to satisfy you, naturally sweetened with applesauce and honey, and a little something extra added with the chocolate. Grab a few of these in the morning and you are good to go!

Cherry Chocolate Breakfast Cookies
Prep time:
Cook time:
Total time:
These easy, delicious cookies ensure your day starts on the right foot.
Ingredients
3 cups rolled oats
1½ cups all-purpose flour
½ tsp. baking powder
½ tsp. baking soda
¼ tsp. salt
½ tsp. cinnamon
3 tbsp. flaxseed meal
1 cup applesauce (no sugar added)
1 large egg
⅓ cup melted coconut oil
⅓ cup honey
1 tsp. vanilla
3 tbsp. almond milk
4 oz. chocolate, chopped
1 cup pitted, chopped cherries
Instructions
Preheat oven to 350 degrees Fahrenheit.
In a large bowl, mix oats, flour, baking powder and soda, salt, cinnamon, and flaxseed meal.
In a separate bowl, whisk together applesauce, coconut oil, egg, honey, vanilla, and milk.
Add wet ingredients to dry ingredients.
Fold in cherries and chocolate.
Drop by cookie scoop or heaping tablespoon onto uncreased cookie sheet.
Bake for 14-16 minutes until bottom of the cookies are golden brown.