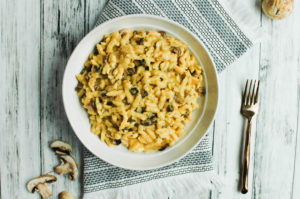 Since Kevin and I have lived in Washington State the entire time we've been married, before having kids we always travelled for the holidays. We would rotate between seeing his family in Atlanta and my family in Chicago and we always had a great time. When I was pregnant with Lleyton, we couldn't travel on Christmas because I was 2 weeks from my due date. As we planned our holiday in the house we had just moved into a few months before, we decided to create our own traditions. One of those traditions is having German food on Christmas Eve. Bratwurst, sauerkraut, spaetzle, red cabbage, and marzipan cover our table. It's delicious, a lot of fun, and thankfully for me, pretty easy to cook. That means our Christmas Eve feast is just about ready and waiting for us when we come home from Christmas Eve mass.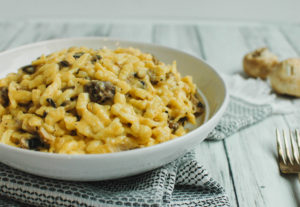 I know that you can make your own spaetzle, but I never have. Spaetzle is a soft egg noodle, almost similar to a dumpling, and is absolutely delicious. Growing up we had it with butter and a little bit of salt, but it's also popular to have with gravy and I bet would pair well with Swedish meatballs. The only place that I have been able to find spaetzle near where we live is at World Market. Since that means I'm making a 30 minute trek with two boys, I always pick up a few bags of it. I think this cheesy spaetzle with caramelized onions and mushrooms will be our new tradition to have a few weeks after Christmas, when there's a delicious bag of spaetzle staring me down in the pantry.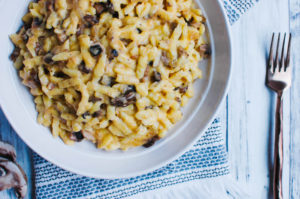 Sharp cheddar cheese, caramelized onions, and mushrooms seemed to be a natural choice to pair with the noodles, and I think it takes comfort food to a whole new level. Next time you see spaetzle while shopping, pick up a few bags and make this recipe. You won't regret it!

Cheesy Spaetzle with Caramelized Onions and Mushrooms
Prep time:
Cook time:
Total time:
Ingredients
500g spaetzle (17.6 oz)
4 tbsp. butter, divided
1 large yellow onion, halved and then thinly sliced
8 oz. mushrooms, chopped
2 tbsp. flour
2 cups whole milk
2 cups shredded cheddar cheese
1 tsp. salt + more to taste
¼ tsp. ground black pepper + more to taste
¼ tsp. ground nutmeg
¼ tsp. ground sage
Instructions
Bring a large pot of salted water to a boil. Add spaetzle and cook according to package directions. Drain and set aside.
Meanwhile, in a large pan, melt 2 tbsp. butter. Add onions and cook until caramelized. Add mushrooms and a pinch each of salt and pepper. Cook until tender.
In the pot that the pasta was cooked in, melt the other 2 tbsp. of butter. Add flour and whisk until smooth.
Add milk and whisk again. Bring to a simmer and allow mixture to begin to thicken. Whisk in cheese, salt, pepper, nutmeg, and sage.
Return pasta to pot with the cheese sauce and stir to coat. Add onions and mushrooms and stir again.
Enjoy!