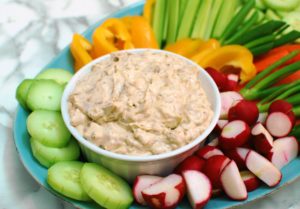 For our first two and half years together in Washington, Kevin and I lived in Tacoma. Some people think Tacoma has a bad reputation, but I'm convinced these people have never actually been there. We loved living there and found so many things to do. We also love our life in the suburbs now, but we're back there frequently with the kids.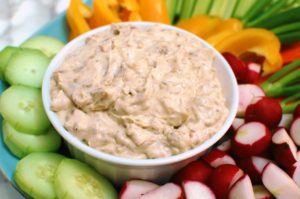 There's a grocery store near the apartment we had there that sells these amazing dips and whenever we're in Tacoma we stop by to pick up a few. They used to sell this amazing caramelized onion dip that I loved and I was so disappointed when we went there to find they no longer sold it! Devastating, I tell you. Maybe I was their best customer? Whether that's true or not, their loss is your gain, because now you can make it yourself. This dip is great on crackers, chips, or veggies. I'm sure that once you try it, you'll want to serve it at every get-together.

Caramelized Onion Dip
Prep time:
Cook time:
Total time:
Ingredients
3 sweet onions, finely diced
2 tbsp. butter
1 tbsp. olive oil
16 oz. sour cream or plain Greek yogurt
1 tsp. salt
½ tsp. ground black pepper
1 tsp. garlic powder
¼ tsp. chili powder
2 tbsp. red wine vinegar
Instructions
Melt butter in a large pan. Add olive oil. Once hot, add onions and cook until caramelized, stirring occasionally. Set aside and allow to cool.
In a small bowl, combine sour cream, salt, pepper, garlic powder, chili powder, and red wine vinegar. Add onions.
Serve with veggies, crackers, and/or chips!