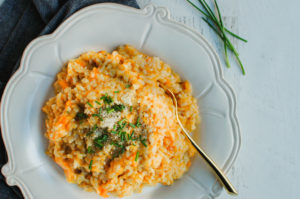 Happy Valentine's Day! I hope you have something fun planned. Our tradition is to get take-out sushi and enjoy it on the couch, a tradition we started when Lleyton was just 5 weeks old his first Valentine's Day. Before having kids, Kevin and I only had one Valentine's Day together since we started dating. Either he was deployed, or I was deployed. We did enjoy one Valentine's Day together before Lleyton was born; it involved a failed trip to Bend, Oregon due to snow and an impromptu night spent in Portland before returning home to Washington.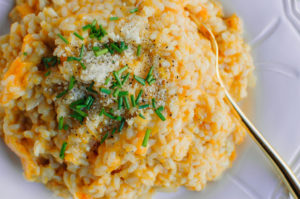 The year that Kevin was deployed on Valentine's Day, I spent it with some of my best girlfriends. We had champagne risotto, chocolate lava cakes, and lots of wine. We had the best night together. Valentine's Day may be a cheesy, silly holiday, but there are so many ways to make it fun.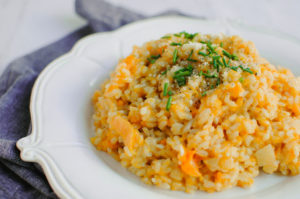 Risotto is such a great Valentine's Day dinner, whether you're planning a romantic date night in or having a fun night with some of your best friends. It tastes fancy, but not overly fussy. It's not difficult to make, and is comforting and full of flavor. I love the butternut squash in this recipe. Not only does it give a great color to the dish, but it does make sure you're eating some vegetables on Valentine's Day and that has to count for something.
I also wanted to provide a meatless dish because today is Ash Wednesday! Thankfully we can still partake in our sushi tradition, but this is a great alternative for you if your typical Valentine's Day dinner involves a big juicy steak.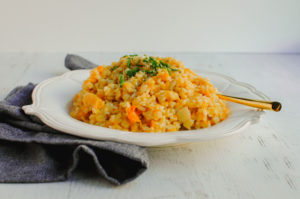 Butternut Squash Risotto
Prep time:
Cook time:
Total time:
Ingredients
1 butternut squash
2 tbsp. butter
1 yellow onion, chopped
3 cloves garlic, minced
2 cups Arborio rice
1 cup white wine
6-8 cups vegetable broth
1 tsp. salt + more to taste
¼ tsp. freshly ground pepper
¼ tsp. nutmeg
¼ tsp. ground thyme
¼ tsp. sage
½ cup parmesan cheese
Instructions
Preheat oven to 350 degrees Fahrenheit. Cut squash in half lengthwise and remove seeds. Line a rimmed baking sheet with aluminum foil and spray with nonstick cooking spray. Place squash cut side down on the baking sheet and bake for 45-60 minutes until tender.
Meanwhile, melt butter in a large pot. Add onions and garlic with a pinch of salt and a few cracks of fresh ground pepper. Cook until onions are tender, about 5 minutes.
Add Arborio rice and cook for 5 minutes until toasted.
Reduce heat to low. Add white wine and cook until wine is absorbed. As you cook risotto, you are continuously adding liquid by the cup and cooking until it is absorbed by the rice.
Add broth, cup by cup, waiting for broth to be absorbed by rice after each addition.
After it reaches your desired consistency, add salt, pepper, nutmeg, thyme, sage, and parmesan cheese. Stir to combine.
Remove butternut squash from the skins and place in a medium bowl. Mash with a potato masher and then add to risotto. Stir to combine.
Serve topped with more parmesan cheese and fresh ground pepper, if desired.